How to Turn off Push for Email on iPhone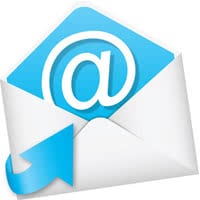 Remember the time before "Push Notifications"? Now that we're all non-stop connected, "always on" and wired directly into all of the news outlets, media and departments at work plus all of the social networks we and our friends use, we want one thing: Peaceful hours and more time for actual life. Perhaps setting all of your email accounts to "Push" notify you of any new message wasn't such a good thing.
We are gladly here to help an we offer a tutorial on how to turn off push notifications on your iPhone with respect to your mail app. Instead of getting each and every update instantaneously, you can bring back some serenity by having your iPhone fetch the mail in larger bundles or even only upon a manual update. No more interruptions and information overload!
Another advantage of turning off push notifications and push email retrieval for your mail app: Increased battery life. By the way, if you are on the lookout for battery life tricks, see our corresponding article.
Disabling push for email on iPhone
Settings > Mail, Contacts, Calendars > Fetch New Data

Open up your "Settings" app and go to "Mail, Contacts, Calendars". Now tap "Fetch New Data" and pick the account for which you would like to change the default settings. Google Mail accounts are set to "Fetch" instead of "Push" in most countries, while iCloud is typically set to "Push" by default.

You can choose between Push, Fetch and Manual mail retrieval, the options are sorted in order of automation magnitude. With Push, you will be immediately notified. Fetch will get your mail on a fixed schedule, for example every 15 minutes or every 30 minutes. Finally there is the Manual setting, which only refreshes your inbox when you open the "Mail" app on your iPhone.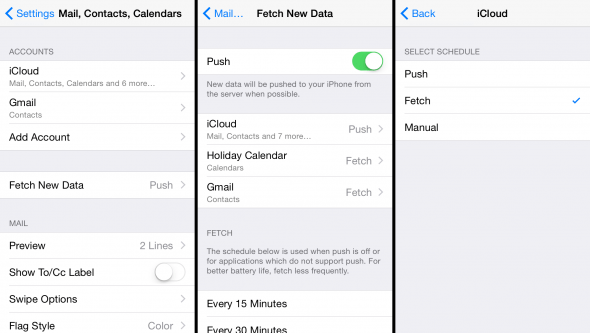 Changing the fetch schedule above results in better battery life when picking a longer fetch interval. You can halve the impact the mail app has on your battery charge by doubling the fetch interval, e.g. to 30 minutes. Note that even important email will not come through if the interval is set to a large number.