Heart Rate Monitor for iPhone: "Instant Heart Rate" App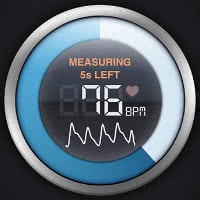 There's an app for everything, they say. Did you know that you don't actually need to buy an external heart rate monitor to check your heart rate or pulse? With the "Instant Heart Rate" app yoou can use your iPhone as a heart rate monitor. There is a nifty trick behind the functionality: It is using your camera's LED flash to shine through a finger and analyzes the image data from the camera to gain information about your vital signs.
Measure your heart rate with your iPhone
A pretty cool and fashionable way to keep your heart rate checked and monitored is of course the Apple Watch. But what if you don't want to shell out the extra bucks or don't like to wear a gadget around your wrist? Then this trick will be very useful as an alternative tothe Apple Watch. You can get the app for the fraction of the cost of additional hardware. This of course comes at the possible expense of accuracy, professional heart rate or pulse monitors are far more precise and reliable and a medical patient should not rely on tricky little apps to get a reading. But if you are just starting out and low on budget or want to measure your heart rate more or less reliably, by all means, go for it.
Measuring your pulse with "Instant Heart Rate"
How does it work? Well, you start by downloading the paid app from the iTunes App Store. The price can vary depending on several different factors such as region, season and sales – but it should be very affordable in most cases. There is also a free version, albeit with a slightly smaller feature set, in case you want to give it a free trial first.
After starting the app, you should find yourself at the starting screen below. If not already active, press the middle button in the bottom icon bar.
To take a reading, place your index finger onto the iPhone camera lens (centered) while keeping the display in sight. The screen should now read "detecting pulse" while you are keeping your finger as still as possible. A countdown will tell you how much longer you will need to keep the finger on the camera lens. Once the measurement is done, you may add a "tag" to categorize the result into groups such as "exercise", "sitting" or "lying in bed" and so on.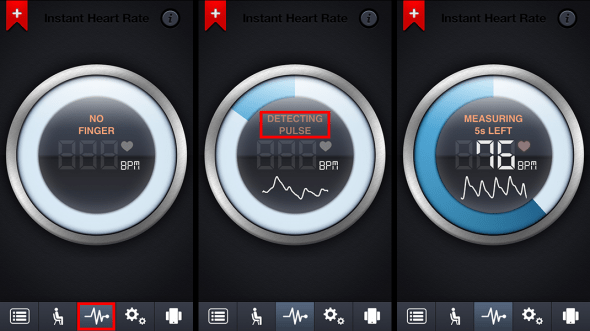 By tapping the "Back" button, we can return to the overview and history of measurements to see a timeline. This is pretty nice for checking out your resting heart rate, which is a great indicator of your overall health and life expectation. General rule of thumb: The lower your heart rate while resting, the better your fitness. Of course there are certain exceptions, please consult a doctor or health practitioner if you have any further questions.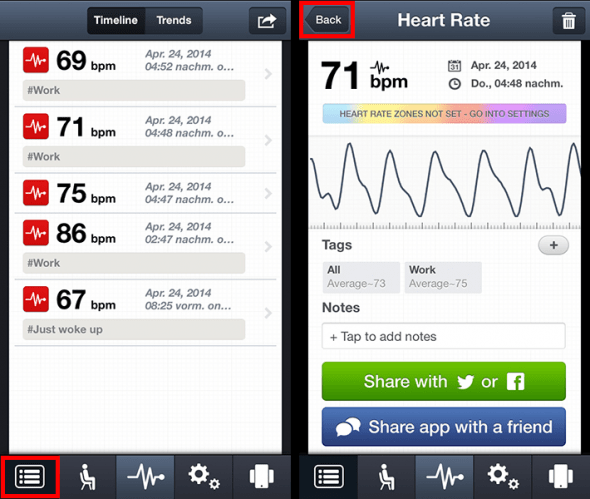 Instant Heart Rate: Troubleshooting
Is the app not picking up your heart rate correctly? Are you running into trouble with the measuring process? Perhaps you are pressing too hard. Try not to build up too much pressure against the camera lens, else your blood flow in the index finger will be reduced and the app will have a hard time getting any readings. If your hands are cold, give them a chance to warm up before taking a heart rate reading with the app.