Downgrade iPhone via iTunes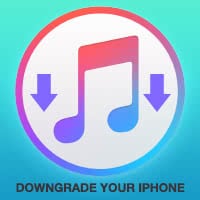 Going back to an earlier version of iOS resolves update woes that have been introduced with the most recent version of iOS. This is particularly important in a corporate environment or academic setting, where specialized and proprietary applications are necessary to keep the productivity going. Here's a tutorial on how to downgrade your iPhone if you have been negatively affected by the most recent iOS update.
Downgrading your iPhone requires an IPSW file, which is the specific firmware file for your device. It is important to determine the exact model of your phone before proceeding, as having the wrong file will only prove to be frustrating later on. To restore an iPhone via iTunes, you will require a Mac or a PC.
Finding the right download for your model
Open up the ipsw.me iOS archive website on your computer. If you have an iPhone 6 or an iPhone 6 Plus, you can rely on getting the right download if you put in the correct device.
If you have an iPhone 5s or older, such as the iPhone 5 or iPhone 4, you will have to differentiate between the different types of the device. The important distinction for the older devices is between the Global / GSM or CDMA versions. To find out what kind of device you have, visit this Apple Support page. The model number on the back cover helps you identify which version you own. You can also browse all available firmware downloads at ipsw.me.
Once you have obtained the correct IPSW file, it is time to create a backup in iTunes and continue with the downgrade procedure. If you need any help creating a backup, see our handy backup guide for iPhones.
Downgrade iPhone using iTunes
Open up iTunes and connect your iPhone via the USB cable. Click "Restore iPhone" while holding the "Alt" (Windows) or "Option" (Mac) key. This will open up a file selection dialog, from which you can navigate to your download folder where the IPSW file is awaiting its use. Once selected, iTunes will ask you to confirm your choice and finally restore the device to the selected version of iOS.
If you have downloaded the wrong type of firmware, iTunes will give you an alert and nothing will happen. It is free of risk to try it again with the appropriate file at this stage.


Caveats to downgrading an iPhone
Unfortunately, Apple does not allow restoring to freely chosen versions of iOS. There is only a window of opportunity to get to the second to last version after an update came out. The versions of iOS that can be installed via iTunes have to be "signed", that means that they are currently approved by Apple. The reason for not being able to install any version you desire lies within the restore mechanism. Your iTunes application contacts Apples servers and checks back whether the downgrade procedure is currently allowed.
Hint: The ipsw.me site keeps track of the currently signed versions of iOS and displays a green checkmark next to the ones that you can currently install. If there is only a red cross, you are out of luck for the time being. Apple imposes such restrictions upon users for support and quality control reasons. You will get the most out of your device when using the latest firmware, plus developers won't have to support a broad range of software/hardware constellations.