Customize Spotlight Search Settings

You can use the Spotlight feature to search your iPhone for news, apps, music and more. It gives you quick access in case you can't find a certain app or other information, for example. With a little trick you can also customize the results of the Spotlight search in order to disable certain types of results you don't need.
Change Spotlight Search settings
If you open up the Spotlight feature on your iPhone, the virtual keyboard appears automatically and you ca enter a search terms into the search field. With each letter you type, the search results become more precise, giving you exactly what you're looking for – at least if Spotlight can find it on your iPhone. In another article, we'll show you how to open Spotlight search.

As useful as the Spotlight search is, it delivers unfiltered results by default. Depending on the number of installed apps etc., the scope of the results can be considerable. To make Spotlight a little more intelligent, you can customize the search settings and set what Spotlight should search on your iPhone. Just follow the steps below.

Settings → Siri & Search → [any app you want] → Siri & Suggestions

First go to the "Settings" app and tap on the option "Siri & Search". Scroll down and select any app whose Spotlight search settings you want to adjust. Then tap the button to the right of "Siri & Suggestions". This prevents information from the respective app – in our example it is the music app – from appearing when using Spotlight. If you disable the option "Show App", the app will no longer appear in the search results.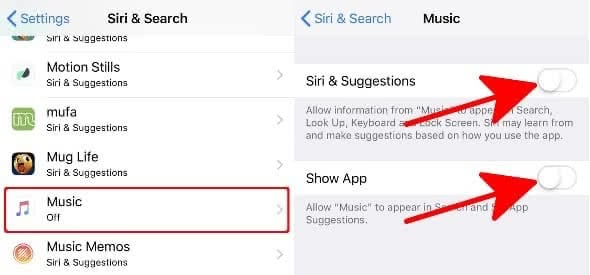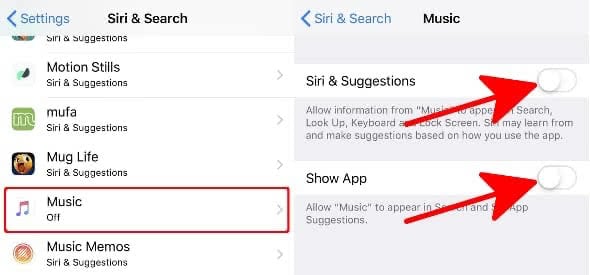 You can also set whether information from the respective app should be displayed in the lock screen via the option "Allow on Lock Screen".
With this method you can specify the results in the iPhone search. For example, if we type "music" into the Spotlight search, results from the "Music" app for this search term will no longer appear in the list. A better overview and speedier usage will be the result of tailoring your search result options for Spotlight.