How to Organize Photos on iPhone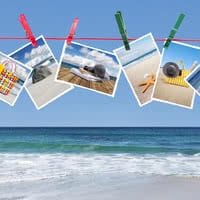 Placing photos you made with your iPhone camera into an album is the first step. But wait, now that you organized them neatly into albums, they are an unordered mess? Good thing that after checking out our little trick, you will know how to organize photos on iPhone within your albums. Rearranging individual photos makes for a great album composition and is just plain neater to look at.
How to organize your photos on iPhone
Sometimes, order is of high importance. Especially when your pics are telling a story of that one crazy camping trip and everything that happened at the lake. No one would want to spoil the surprise early, since all of your friends are watching the screencast of your slideshow on the TV that is hooked up to an Apple TV and connected to your iPhone via AirPlay. Or perhaps you just enjoy a thoroughly ordered album. Either way, you can't just drag images around in your "Photos" app, as you have probably discovered.

Photos > Albums > Select > Drag and Drop

The trick is to go into your "Photos" app, select the "Albums" tab and hit the "Select" button at the top right corner. Now you can actually drag and drop individual images to any place within the order and your iPhone will remember this way of organizing them. Note that this only works within Albums, not within the "Photos" tab, as the former is ordered chronologically.