How to Change Font on iPhone using AnyFont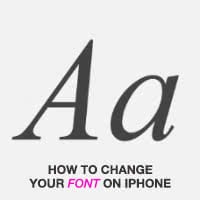 Steve Jobs loved trying out new fonts, his passion for typography is well documented. The first macintosh computer excelled in terms of type and made text appear beautiful on screen. Now that we are using mobile devices all across the globe, Steve's passion for beautiful type is a part of our everyday iPhone usage. But there is one caveat: You can't install new fonts on your iPhone without the help of an additional app. Here's a tutorial on how to change font on iPhone using the AnyFont app. No jailbreak required.
The fonts we will be installing are available system-wide and not just within the AnyFont app, which acts as a font management suite and font installer.
You may use those additional fonts inside of Apple Pages, Word, Excel, QuickOffice and other office apps to decorate and refine your designs. Adding new fonts makes sense in pretty much any document and artwork, be it a professional letter or a greeting card and creative projects. Choice is really key when working with type. Using AnyFont, we can extend your choice to thousands upon thousands of free fonts or commercial fonts to which you own the license. Unfortunately, there is not an option to change the iOS system font, at least for now. Apple has chosen to keep this option restricted for design quality and aesthetic reasons.
How to install AnyFont
AnyFont is a paid app that is worth every penny, as it is continuously updated and fit for the latest iOS. You can get it in the iTunes App Store by following our link right here. Typically, it will cost around $2.00 or so. Open up your "App Store" app and search for "AnyFont" or click our link, then purchase and download the app like any other.
How to add additional fonts to your iPhone using AnyFont
The "AnyFont" app supplies you with an extensive tutorial upon first launch. Basically, to add a new font we can either use the document folder of the app from within the iTunes application on a computer, or directly download the font onto the device through the Safari web browser. We will be using the latter method.

Safari > (browse to font download) > Open In > AnyFont

To download a new font, go to fontsquirrel or any of your preferred font download websites. AnyFont supports most of the common types of fonts such as OTF, TTF or TCC.

Begin the download of the font file, then select "Open In" from your Safari web browser and pick AnyFont as the destination for your file. This will take you to a preview within AnyFont. If you tap to install the font, you will be going on a short round trip of installing a special certificate and returning to AnyFont. Simply accept or confirm all of the screens until you return to the app. Check out our screenshots for reference and note that this process may slightly change, depending on your version of iOS: