Getting More out of iPhone Favorite Contacts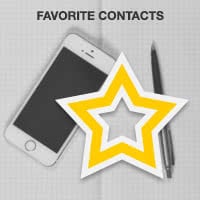 Your favorite contacts on iPhone are somewhat of a speed dial function. Adding your most-dialed numbers in the "Phone" app's "Favorites" section allows you to reach them quickly and efficiently without having to go through your "Contacts" app or having Siri and Spotlight look for the right number. We love the feature and use it both for work and personal matters, such as having your significant other and besties or parents in the quick call list.
There is one limitation though: Tapping one of your "Favorites" will only call the main number. What if you need to call them on their landline? Or send them a message? Or share their details with a third party? This is where the advanced iPhone favorite contacts tricks come in. By applying the below methods, you can speed up your communication to a noticeable degree and retain the flexibility of taking the deep dive into your address book.
How to add a contact to your Favorites
Phone > Favorites > (Plus)

or, alternatively:

Phone > Contacts > (Contact) > Add to Favorites

One way to favorite a contact is to go to your "Phone" app's bottom icon bar and select the "Contacts" tab to pick one of your contacts, then select "Add to Favorites" from his or her detail page.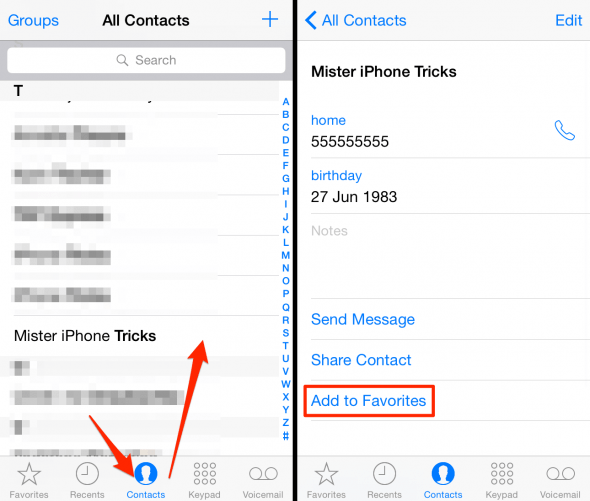 Another way would be to go through the "Favorites" tab and tap the "Plus" icon at the top right to add a contact to your favorites. Both methods produce the same result.
How to reach the hidden options for your Favorites
Now here's a trick that allows you to get far more out of your favorite contacts. In fact, this empowers you to use the "Favorites" tab to the full extent of your "Contacts" tab.

Phone > Favorites > (i)

Simply tap the blue "i" symbol next to a contact in your "Favorites" view, which will take you to the detail screen. Notice that you can now select the secondary and additional phone numbers to call them, write a message to the contact, share the contact card and do other things that were previously unavailable to you.