How To Cancel A Subscription On iPhone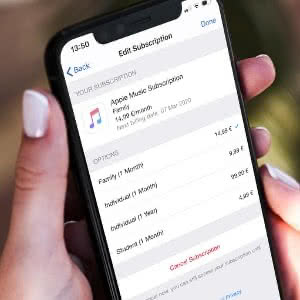 Which app was it again where you bought a subscription last month? And when will it be automatically renewed? If you've asked yourself these questions before, we'd like to show you how to cancel a subscription on your iPhone lightning fast using 3 easy ways!
Whether Netflix or music streaming services such as Apple Music or Spotify: You can cancel them all, directly on the iPhone. There are three ways to do this. Two fast ways (option A and B) and a slightly longer one (option C), which for a long time was the only way to cancel or change subscriptions on the iPhone. Let's start with the fastest and easiest solutions. In case they don't work, you can always revert to the longer version to cancel an Apple subscription.
Option A: Cancel subscription on iPhone with direct link
If you want to cancel your iPhone subscription, first click on this link which will take you directly to the subscription settings of your iCloud account. There you can view, change, or cancel your App Store or iTunes subscription directly. Make a note of the link or add it to your reading list (hold down → "Add to Reading List") to quickly access your subscriptions and cancel or change them at any time.
Option B: Access subscriptions via Shortcut
Shortcuts can be used to automate various processes on the iPhone. This includes the possibility to jump directly to the subscription management via Shortcut. Just download the shortcut Manage Subscriptions by tapping on "Add Shortcut" or "Add Untrusted Shortcut" if necessary. Once you activate it in the Shortcut app, you'll be taken directly to your subscriptions, where you can cancel or change them.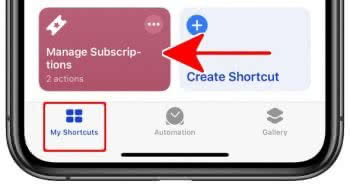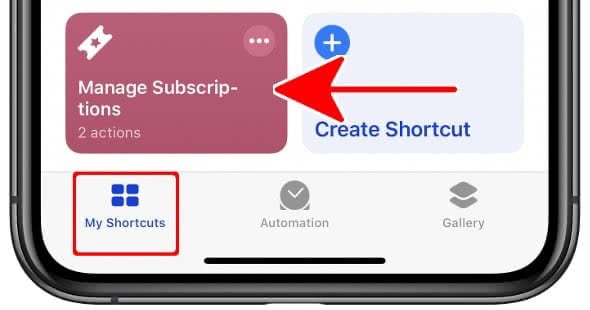 If you can't find the Shortcut app on your iPhone, simply open Search on your iPhone (wipe across the screen from top to bottom) and enter "Shortcuts" in the upper search bar. You can search and download the app from the App Store as well.
Option C: Cancel subscription in Settings app

Settings → [your Name] → iTunes & App Store → Subscriptions → Select subscription → Cancel Subscription

To do this, open the "Settings" app on your iPhone, tap on your name at the top and select "Subscriptions". Here you will find a list with all active subscriptions of the currently logged in Apple-ID. Touch a subscription to see details.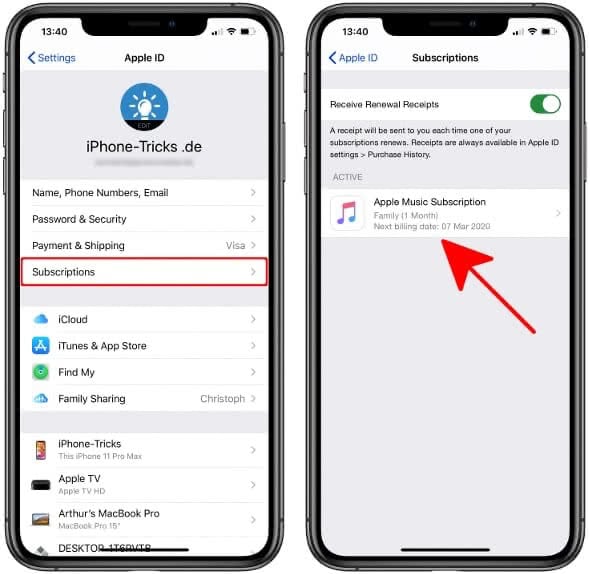 At the top of the page you will see the name of the respective app. Under Your Subscription you can see how long the current subscription runs and when it ends. Below that you can see various options, which vary from app to app. In our case – it's a one-month Apple Music subscription – we can change the subscription conditions from the end of the subscription period. Subscriptions that have already expired or been terminated can be renewed or extended here.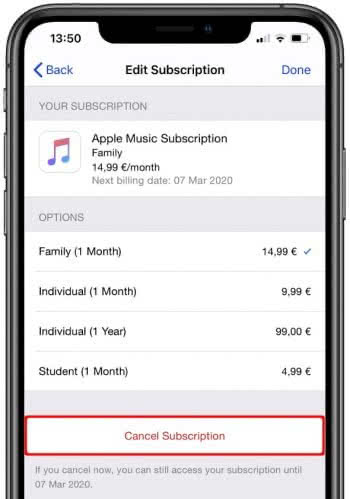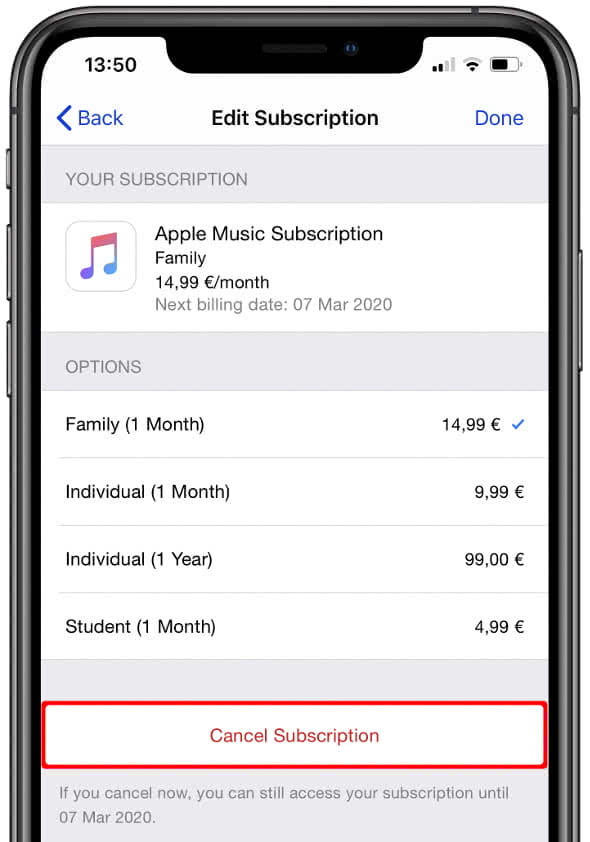 To cancel an iPhone subscription, all you have to do is press the "Cancel Subscription" button. Then the subscription will not be automatically renewed at the end of the subscription period, but cancelled. Of course you can continue to use the subscription without any restrictions until the end of the subscription period.