How to Change App Store Country or Region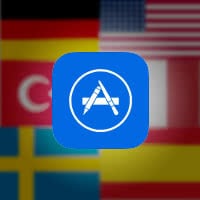 Here's a guide on how to change your App Store region, so you can download apps from other countries. Most apps are available in a wide variety of regions and available in localized versions in the United States, Germany, France, Italy, Spain and a number of other major language zones.
Sometimes, apps are rolled out in a so-called "soft launch", which staggers the release dates across countries. By changing your App Store region, you can get certain apps a little earlier. Or even gain access to apps which would otherwise not be available at all to you. While you can officially change your App Store region in the settings, the traditional approach is rather frustrating. Having to re-enter all of your payment information after a switch is unnecessarily annoying.
The easiest fix for all this hassle is to create a second Apple ID for the specific country you are trying to download an app from. This way you can just sign out of your regular account and sign into the alternative account when needed. You can repeat this process to create a number of Apple IDs solely dedicated to downloading apps from other countries without having to re-enter any information.
Signing out of your main Apple ID
Settings > iCloud > Sign Out > Keep on My iPhone

First of all, we will have to sign you out of your main Apple ID account. Go to your "Settings" app and tap "iCloud". Now scroll down and "Sign Out", then choose to keep your data on the iPhone to save time when logging back in. Don't worry, you won't lose anything in the process of doing so.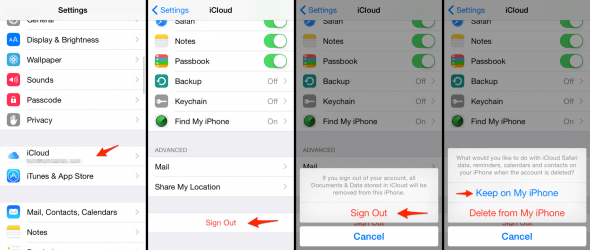 Creating an additional Apple ID for other regions
Settings > iCloud > Create a new Apple ID

Now we can revisit the "iCloud" section in your "Settings" app, but rather than logging straight back into the old account, we will create a new account first.

Tap "Create a new Apple ID" and fill out the required form fields, simply following the guidance of the assistant. You can either choose to get a free iCloud address or supply Apple with another existing (but not already present) email address. Create a unique password and security questions to secure your account. Tap "Next" and keep filling out the data fields until the Apple ID creation process is completed.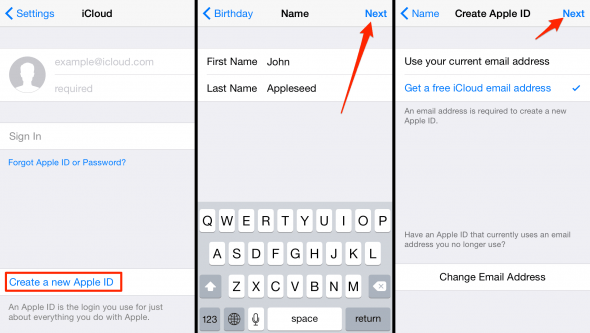 Using your secondary Apple ID in the App Store
Downloading free apps from foreign App Stores is no problem at all, when working with your new secondary account. For paid apps, you will either require an international address that fits the country you will be selecting, or gift cards that are compatible with the region. You can get those gift cards by purchasing them from resellers online.

App Store > Featured > Log In > Select Country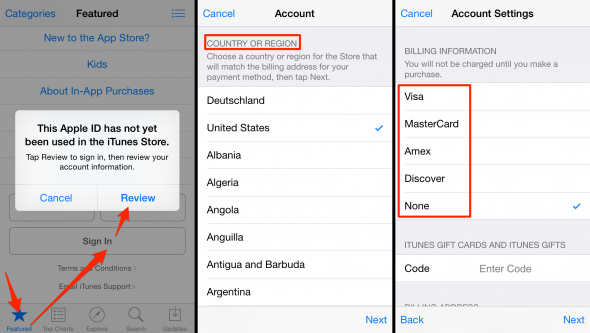 Open up your "App Store" app and go to the "Featured" tab. If your old Apple ID is still logged in, tap "Sign Out". Otherwise, "Sign In" with your new account, supplying the email address and password that you had entered just a few moments ago.
You will now be prompted to review your personal and payment data for the App Store. While going through the assistant, you can pick any country or region from the list. Select "None" as a payment method if you only plan on downloading free apps for now.
That's it! Enjoy your new international account.
Hint: You can now go back into your iCloud settings and log back into your main account by repeating the first couple of steps. The new secondary account can be used for the App Store whenever necessary.