How to Email Multiple Photos on iPhone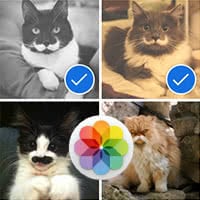 There is no need to copy and paste individual photos into an email or chat window when using an iPhone. This is a guide on how to email or share multiple photos from your iPhone, using the native "Photos" app that comes preinstalled with your device.
New users often look for shortcuts and efficient workflows that help them in managing the content on their iPhone. We all share tons of photos and images on a daily basis, since the advent of the digital age and the age of smartphones.
How to email multiple photos (or share them all at once)
Photos > Selection > Share

Launch the "Photos" app by tapping its icon on your Home Screen. Select the "Photos" tab or one of your "Albums" by selecting the respective tab at the bottom of the screen.

Tap "Select" at the top right to go into selection mode. By tapping the individual thumbnails, you can now place and remove check marks on your images to process them all at once. Once you are happy with your selection, hit the "Share" button at the bottom left. Its icon looks like a square with an arrow pointing upwards.

Finally, select your preferred app to share the photos. Pick "Mail" if you want to email all of those images to one of your contacts. You can also select one of the other options, such as a texting or chat app, which will vary depending upon your installed apps.