How To Screenshot On iPhone SE 2

The easiest and fastest way to save the current screen content on the iPhone is to take a screenshot. All you need is a special key combination and the screen content will appear as a photo in the photo app. We show you how to take an iPhone SE screenshot easily!
How to take a screenshot on iPhone SE 2
Press Home button + right Side button simultaneously

Taking a screenshot on the new iPhone SE (iPhone SE 2 or iPhone SE 2020, as some people call it) is very easy and done in no time at all. You can save fun pictures, recipes, tutorials, or even message histories on your iPhone and share them with others. And because iPhone SE (2nd generation), unlike the models starting with iPhone X, has a Home button, it uses the age-old key combination. To do this, go through the following steps:
First, open a web page (e.g. in the Safari browser) or any app that you would like to save the content of.
Now press the Home button and the right Side button simultaneously. The screen will light up briefly and you'll hear the familiar camera sound you're used to when taking normal photos.
The screenshot will then be saved as a photo in your "Photos" app. You can now edit and/or send the screenshot.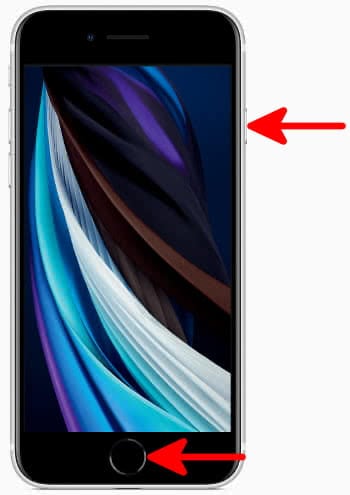 You can find all screenshots in the "Photos" app in the "Photos" tab or under "Albums" → "Recents". You can also view your screenshots under "Albums" → "Screenshots". The whole thing works in any app, by the way.
If you want to save videos or clips instead of static pictures, you can use the iPhone screen recording feature. In another article we will show you how to take an iPhone screenshot on all other models.