Facebook: Delete All Posts At Once

When it comes to the Facebook timeline, pretty much everyone has a few skeletons in the closet. These appear in the form of cringeworthy statements or embarrassing party photos from days long gone. If you want to get rid of these on your profile once and for all, you can now delete all Facebook posts – with much less click work than ever before.
Delete multiple or all Facebook posts at once
You don't want anyone to see your old (and maybe embarrassing) posts in your Facebook timeline? Sure, with the right privacy settings you can limit the visibility of unwanted posts. Even deleting them has always been no problem. However, until now, posts could only be removed individually, which takes a lot of time and effort. Recently, however, the Facebook app also allows you to delete several or even all posts at once.
To get rid of unwanted posts in one go, just follow these steps:
First open the Facebook app on your iPhone.
Go to your feed (house icon in the lower left corner) aned tap on your profile picture in the upper left corner.
In your profile, click on the three dots next to "Add Story" and select "Activity Log".
In the Activity log, go to "Manage activity" at the top and tap "Your posts" at the bottom.
You can now select multiple posts by checking the box to the left.
With a tap on the "Recycle bin" button you can remove all of them. Confirm the deletion by clicking on "Move to Recycle bin".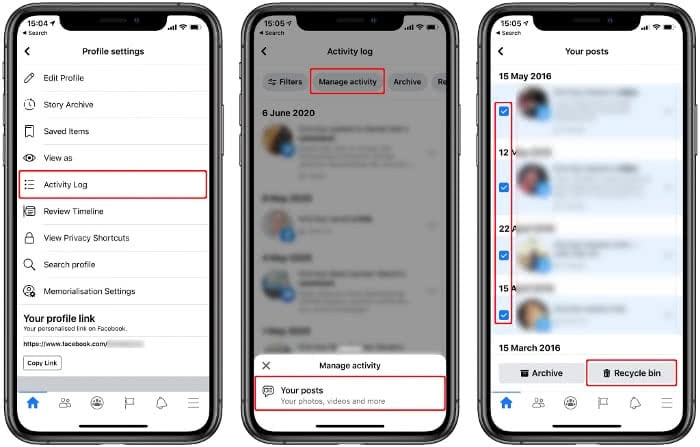 All posts that you move to the trash will only be permanently deleted after 30 days. Until then you can still access them via the "Recycle bin" button and restore them if necessary.
You can also delete them completely in the Recycle bin view before the 30-day period expires. To do so, simply check the respective posts again and click on the trash can icon. Confirm again by tapping "Delete" in the pop-up window.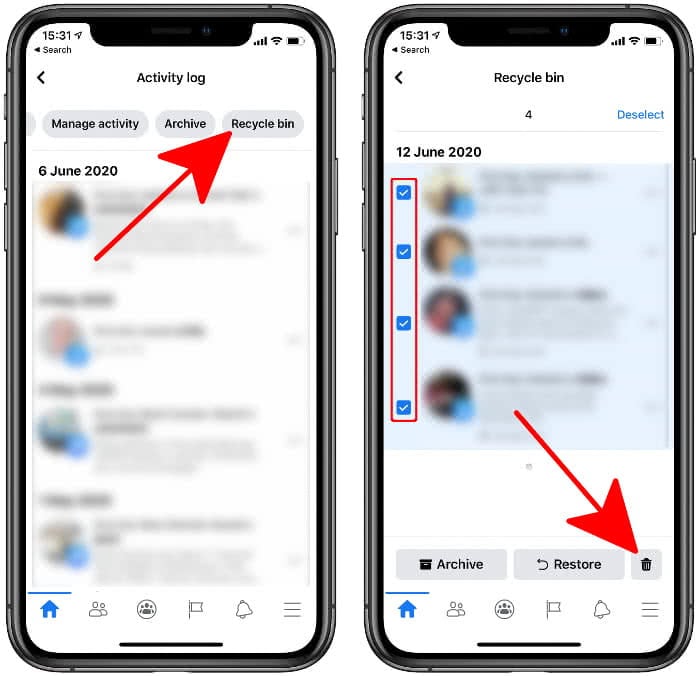 In order to limit the deletion to certain post types only, you can also use the filter options "Categories" (videos, photos, posts, etc.), "Date" and "People". You can access these by clicking the "Filter" button at the top of the page.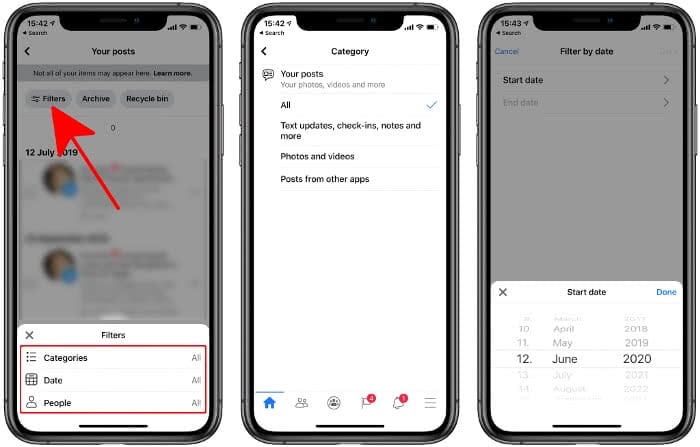 Archive several or all Facebook posts
Those who do not want to take such a radical approach can also archive unwanted posts. To do this, go through steps 1 – 5 as described above. But then tap the "Archive" button. This way you can still see the postings (if you want to), but others can no longer see them. Under "Archive" you can restore or delete the posts if necessary.