How to Block Ads on iPhone (for Free)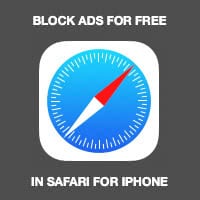 Here's a tutorial on how to block ads on iPhone using a content blocker for Safari, all of which completely free of charge. Apple makes it possible to selectively block certain types of content, which developers are now using for the creation of ad blocker apps on iPhone. You can find plenty of those apps in the App Store and new ones are coming in on at least a weekly basis, competing for the throne of ad-blocking on iOS. We've found an app which is not only free, but extremely easy to use. Continue reading for a guide on how to install and enable it.
Websites that are sponsored via advertising
Ads run the web, they really do. Without ads, we would not be able to deliver this helpful content to you, free of charge. Ironically enough, we still explain to you how to block ads on the web using your iPhone, because we know how irritating certain ads can be. Kindly consider adding us to your whitelist, we promise that we won't annoy you with intrusive ads.
How to block ads in Safari on iOS
First of all, you will require a 64-bit device, such as the iPhone 5s and newer, otherwise the content blocking apps won't run on your iPhone.
Installing the 1Blocker App
You can find the 1Blocker app in the regular iTunes App Store, no jailbreaking required! There are around 7.000 preinstalled blockers at this time and you can easily customize whatever you want to block or allow. The app works pretty great in free mode, by purchasing the In-App Upgrade for around three bucks you can also unlock unlimited blocklists.
Enabling the Blocklist
Go to your "Settings" app, look for the "Safari" section and finally select "Content-Blocker". Enable your 1Blocker app from there. Now launch your 1Blocker app and continue with the setup assistant. You can opt to "Block All" for starters, afterwards you'll be able to customize on a more fine-grained level.