Apple Music: 3G & LTE Streaming in High Quality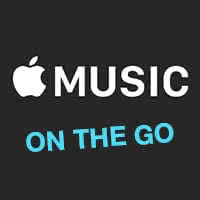 Apple Music offers 3G and LTE streaming, so you can listen to your favorite tracks while on the go. Many users are not aware of this fact and some took the switch to Spotify as they didn't want to rely on previously downloaded offline tracks for their daily music fix while commuting. You can in fact stream Apple Music using your mobile data connection, which includes 3G, 4G, 4G LTE, 5G or other network types and you can even do so using a high quality option. Here's a tutorial on how to enable mobile streaming with Apple Music.
Warning: Check your plan's detailed conditioned on data use
Of course, you should consider the cost of such a setup if your mobile bandwidth or traffic quota is limited. Depending on your data plan, you could exceed any given limit rather quickly. Some regions around the globe are already offering true flat rates for mobile data, in those cases it won't matter. Just as a precaution, you should check your contract details if unsure before proceeding to enable this option. If your data plan is self-extending and charged in automatic upgrade buckets, this might be a costly choice. Take care!
How to stream Apple Music via the mobile data connection (3G/LTE/etc)
Settings > Music

Open up your "Settings" app and scroll down a little until you see a section labeled "Music", which you may tap to continue. We're looking for the option panel with the title "Playback & Downloads".

Switch on the toggle for "Use Mobile Data" to enable mobile streaming and downloading. If desired, enable "High Quality over Mobile Network" to get better sounding files at the cost of larger downloads or heavier traffic. Again, please consider whether the latter option is affordable with your type of setup.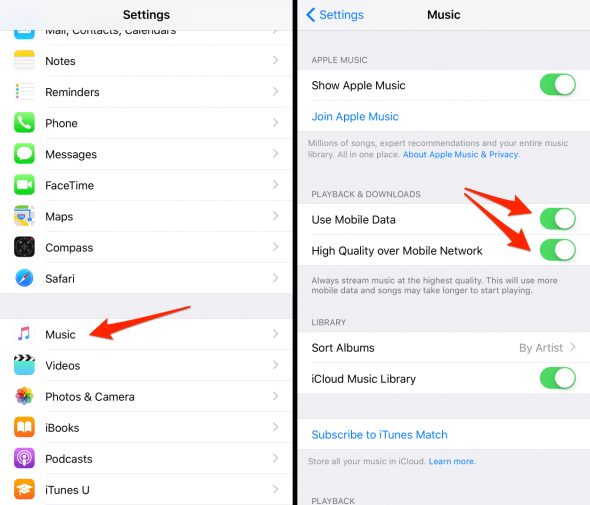 Hint: Both of these options have no detrimental effect on music playback when you are e.g. at home or in the office (while connected to a WiFi network), in these situations the listener will always experience the best possible audio quality.