Currency Converter & Unit Conversion Using Spotlight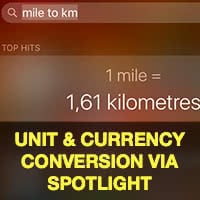 There is a feature in Spotlight that is quite delightful for international workers that need a currency converter or require measurement conversions on a daily basis. The upgraded Spotlight search can save you the extra trip to Google's search results. This is a tutorial on how to use your iPhone as a handy currency converter and/or convert all sorts of units (be they imperial, metric or otherwise) without the need for additional tools.
How to open up the Spotlight search
The quickest way to open the Spotlight search on your iPhone is to go to the Home Screen by pressing the Home Button first. Then swipe downwards once you see your collection of app icons, this should open up a search panel akin to the one on our screenshots below.
How to convert currencies or units using your iPhone
Now that we've opened the Spotlight search, it is time to let our iPhone handle some calculations for us. You can enter the any amount followed by a currency or unit and use the word "to" in order to designate your target output format. Say you want to convert miles to kilometers. Enter e.g. "10 miles to kilometers" and the answer will pop right up, beneath the entry field.

Some of the world's currencies have not yet made it into the database, but all of the major ones work without the roundtrip to a search engine. You can already use and convert US Dollars, Japanese Yen or British Pound and Euros without issue. Zloty and Lira however, don't appear to be implemented just yet. In case iOS doesn't know what to do, you will be offered results from the web to tap and access instead. We think this feature is a great addition and timesaver, enjoy!