Contact Speed Dial in Notification Center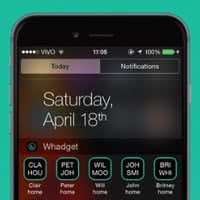 The "Whadget" app allows you to place widgetized shortcuts (or a speed dial, so to speak) to your favorite contacts in the Notification Center of your iPhone. You can then message them directly via WhatsApp, call, text or video call them via FaceTime. This free app is particularly useful to extend the functionality of iOS, as it only allows quick access to Apple's own services, but not to the very popular WhatsApp messaging service, which is available cross-platform.
How to get "Whadget" on your iPhone
To install the free app, visit the iTunes App Store via this link and install the "Whadget" app like any other. As explained above, we need the app to extend iOS's functionality to include WhatsApp and allow these shortcuts to be placed in the Notification Center.
How to configure and enable "Whadget"
Firstly, launch the app and click through the intro screen, then tap the green plus sign at the top right corner of the screen. This will allow you to pick contacts for the widget. Select your favorite contacts to continue.
Bring up your Notification Center by swiping down from the top of the screen, then select "Today" for the view and scroll down to hit the "Edit" button. Find "Whadget" in your list of widgets and add it via the green plus sign button. Hit "Done" when you are finished (re-)arranging your Notification Center widgets.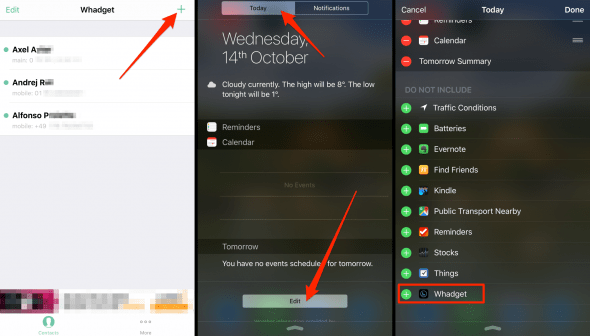 How to use "Whadget"
Now that you have completed the initial setup, bring up your Notification Center one last time and check whether "Whadget" is displayed properly.
You should see shortened names for your contacts, packaged into buttons with green outlines, not dissimilar to WhatsApp's colors. Tap one of your contacts to see the available actions. Select one of the buttons to message him or her via WhatsApp, call the contact, leave a text message or launch a video call.