Cydia Guide for Beginners: How to Add/Remove Tweaks and more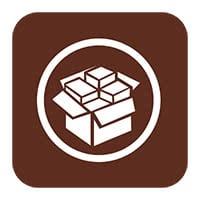 Are you new to Jailbreaking? This beginner guide to Cydia will send you on the right track! Cydia is pretty much the App Store of Apple's forbidden fruit, as you can get all sorts of neat apps and tweaks as so-called "cydia packages" in it. The Cydia guide will discuss all of Cydia's user interface and features such as installing and removing tweaks and/or themes, in order to give you a head start as a beginner or ease your re-entry into the diverse scene of jailbreaking.
What's Cydia and how does it work?
Cydia is a software distribution platform, similar to the iTunes App Store. You can download so-called "tweaks" which serve to extend your iPad, iPhone or iPod touch on a functional level. Furthermore, you can install all sorts of icon themes, wallpapers, ringtones and specialized Cydia apps. Some of the packages in Cydia are free, while others have to be bought. Your purchases are preserved across devices and restores through an authentication system.
Here's a little terminology for jailbreaking newbies:
Apps: Full applications, comparable to what you get in the iTunes App Store but without the restrictions Apple typically places on them.
Tweaks: Adjustments and functional additions to built-in iPhone features or apps. These are probably the most popular component of what you can get in the Cydia store.
Tools: Helpful applications.
Themes: Change the appearance of the icons on your Home Screen and other parts of the iOS interface.
At the bottom of your Cydia app, you'll find five main sections per default. We will discuss each of the sections in detail.


Cydia home
The main cydia start page entails tons of subsections for you to explore. Most of theme are promotional and contain featured tweaks and themes recommended by the Cydia staff. Right in the center of this screen you'll find a button labeled "Manage Account", which allows you to log in and retrieve prior purchases.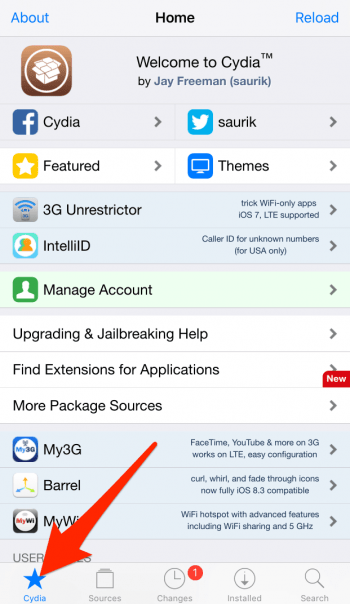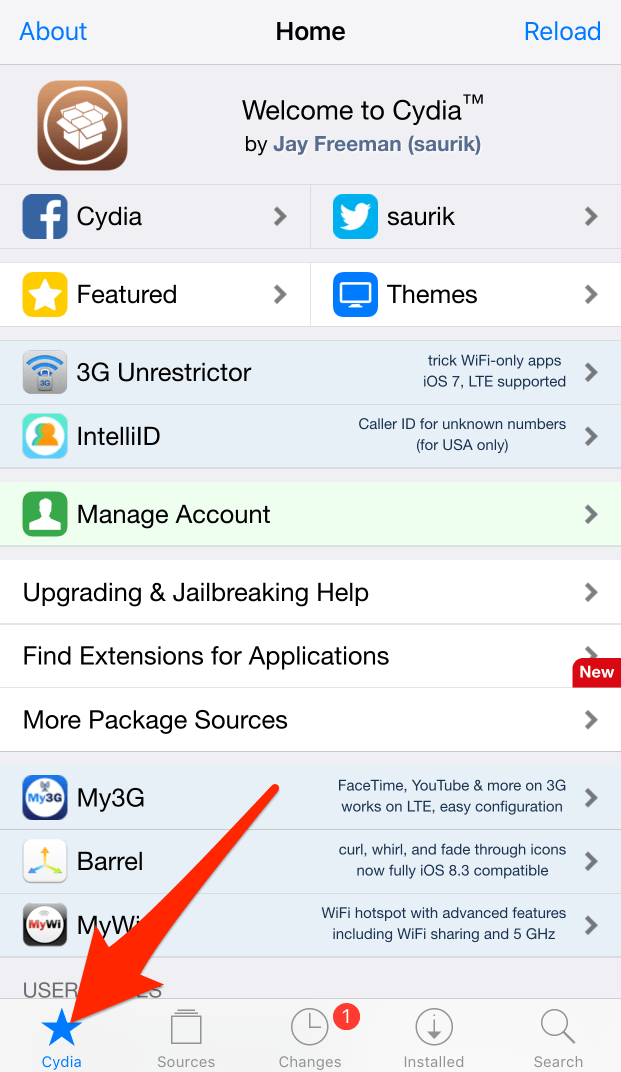 How to filter Cydia by category
Tap the "Sources" tab to see a list of currently enabled sources, which you can manage by tapping the "Edit" button. But first, let's tap "All Sources" to see a list of sections. These sections work as category filters and can be browsed individually. But they also govern which types of packages you'll see in the other tabs. By tapping "Edit" we can toggle the global visibility of these sections. This can help beginners by making the overall list less overwhelming and allowing one to concentrate on, say, themes and basic tweaks only.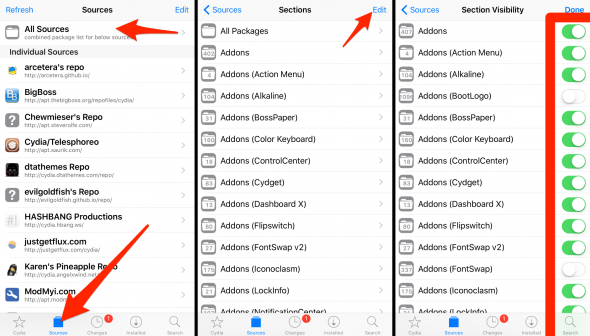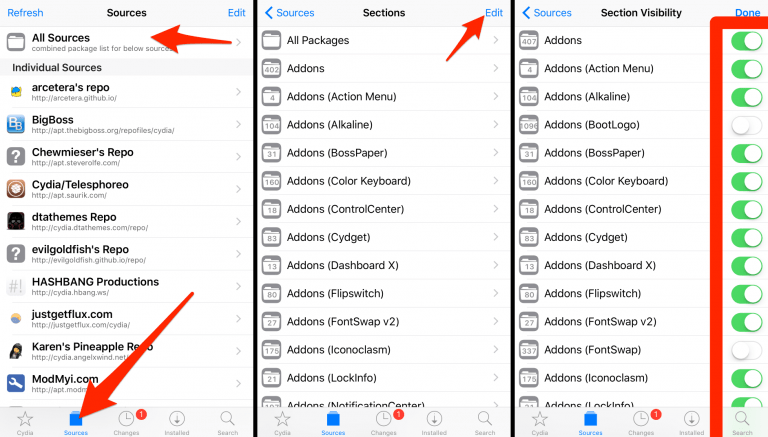 The "Changes" tab
In your list of "Changes" you'll find updates/upgrades to your currently installed software and a list of recently released packages. Hit "Upgrade" to fetch the most recent versions of your packages and install them.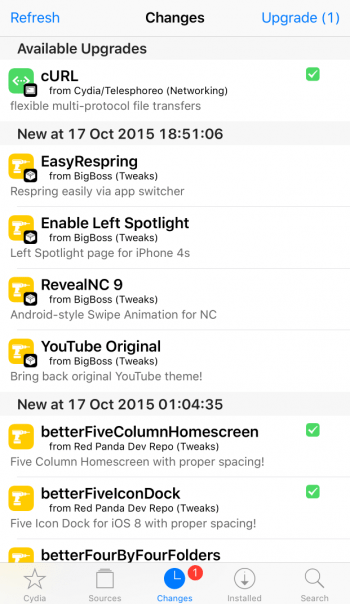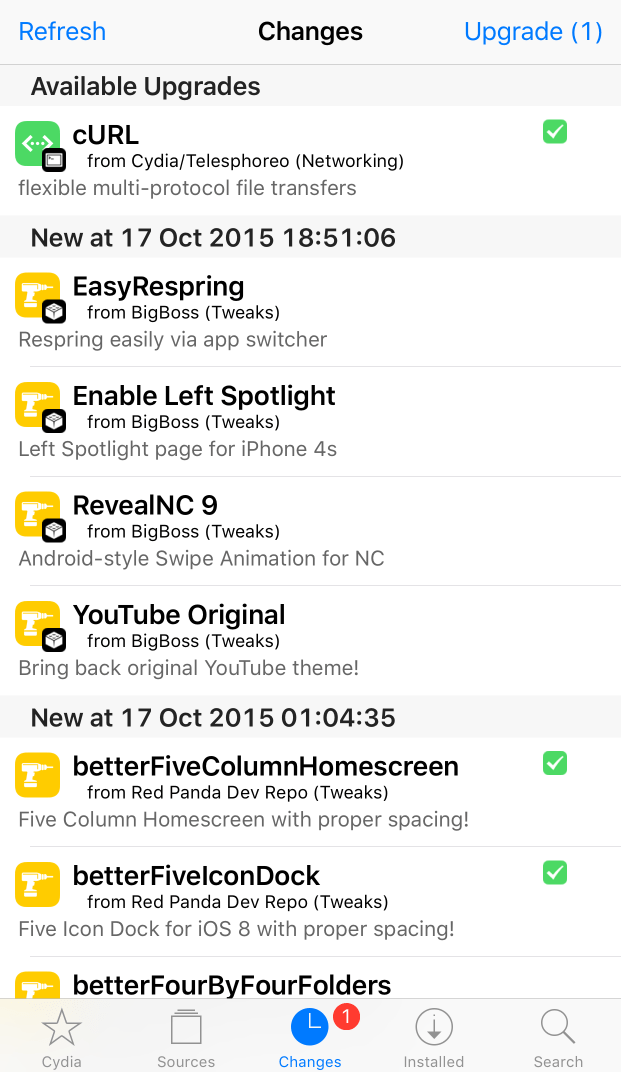 How to install a Cydia tweak, app or theme
Typically, to install a new tweak or theme through Cydia, you'll go through the "Search" tab. Enter the name of your desired package and tap it, then hit "Install" or "Modify" to see installation options.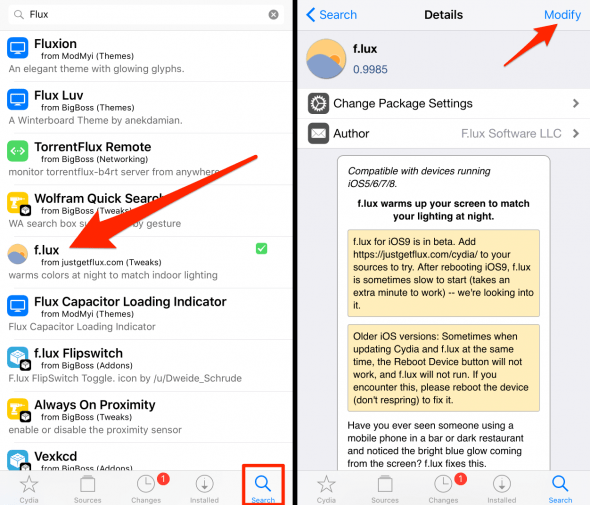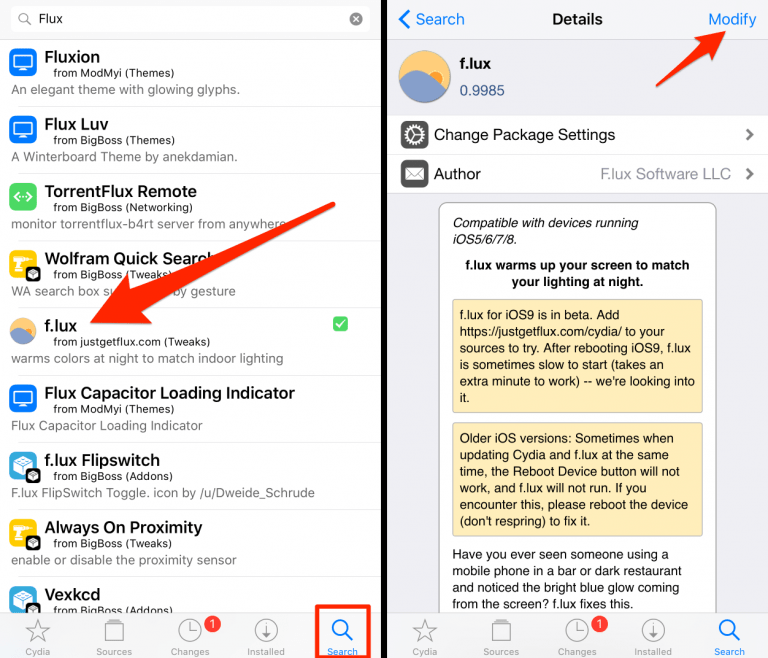 How to restore Cydia purchases
You may be wondering: "How can I retrieve past purchases I made on the Cydia Store?". Well, this is pretty easy. When making a purchase, you will be asked to sign in either through Facebook or your Google account. All purchases are tied to your login from this point onwards, so choose wisely. It is not possible to merge Cydia accounts.
Go to the "Cydia" tab and tap "Manage Account", then sign in with your preferred authentication method.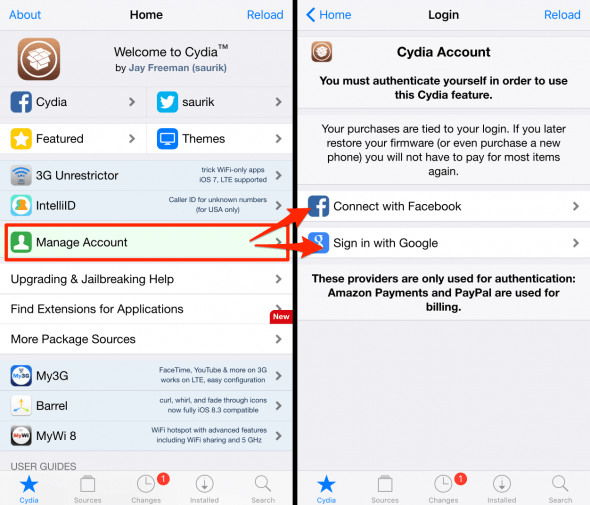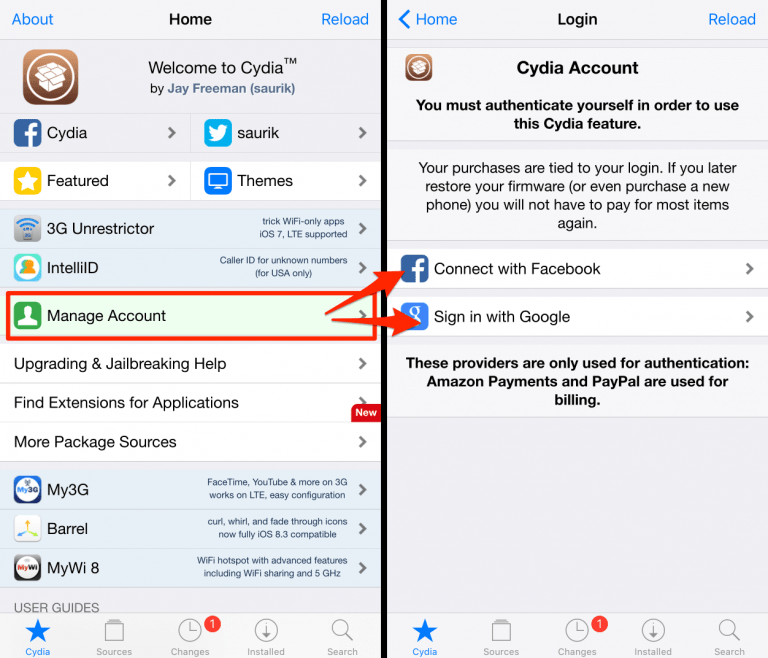 How to update installed packages in Cydia
Go to your "Changes" tab and wait for Cydia to fetch the latest updates from the repositories in your "Sources" tab. This should only take a minute while on a WiFi connection. Then hit "Upgrade" and either "Confirm" or, if you'd like to add something to your install queue or uninstall a Cydia package in the same step, select "Continue Queueing" until done.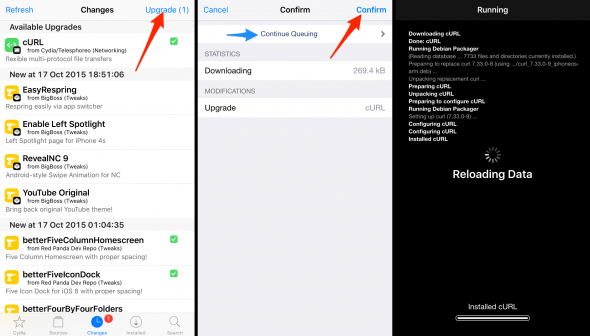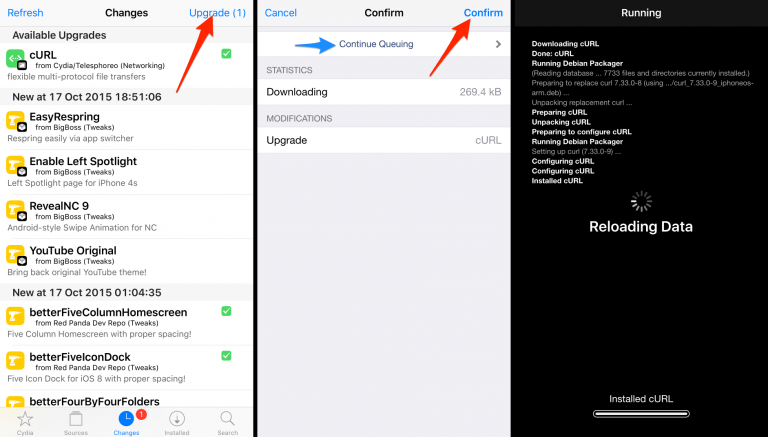 Each installation or uninstallation results in the black and white text output that informs you of the outcome of each operation. Typically, there should be no errors.
How to uninstall a Cydia tweak/theme/app
Some of the packages on Cydia may cause trouble with other packages or won't work because they are outdated. Or you simply decide you don't need them. What now? Well, we can uninstall anything we download from the Cydia store.
To delete a cydia package from your iDevice, go to the "Installed" tab and select the offending package from the list. Then tap "Modify" and choose "Remove".