How to Create a Playlist on Your iPhone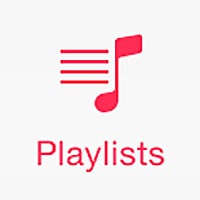 Whether you prefer using an Apple Music subscription or your own iTunes store-bought and manually ripped music: Creating playlists is where all the joy is with modern methods of music consumption. Instead of having you bust out your old cassette recorder to create a mixtape, we will be discussing how to create a playlist on iPhone, within the current "Music" app. Following along with this guide does not require any additional software such as iTunes, as we will be doing everything within the app.
Creating a playlist directly on the iPhone
1. The primary method
Music > My Music > Playlists > New > Add Songs

Open up your "Music" app and tap the "My Music" tab. Then switch over from your "Library" to the "Playlists" view by tapping the corresponding tab at the top of the screen. Next, tap "New" to create a new playlist. Give it a descriptive name and add some artwork or photo and a description if you want to.

Then tap "Add Songs" to fill your newly created playlist with music. You can choose to add entire albums, individual songs, or select other criteria such as the genre for filtering. When you are happy with your creation, feel free to save your playlist by tapping "Done" at the top right corner of the screen.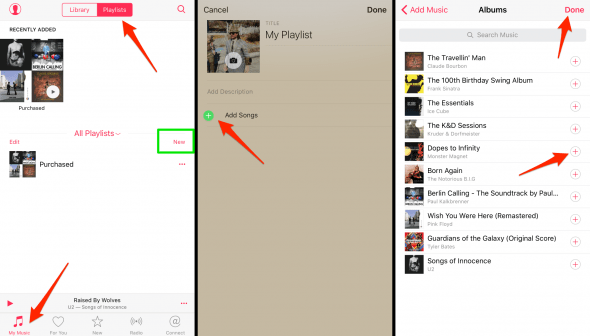 2. Building a list "on the fly"
[…] > Add to a Playlist

You can also tap the three dots at the bottom right of the view containing the currently playing song, while you are viewing the large version of the album artwork. This will open up a context menu. Select "Add to a Playlist…" and select either an existing playlist or create a new one right one the spot by tapping "New Playlist".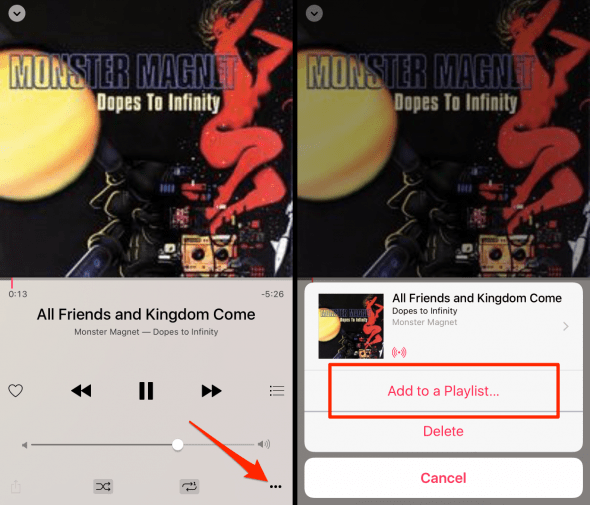 By using this second method, we can add the currently playing music to a playlist, which makes creating lists much more spontaneous and dynamic.