How to Fix Error 9, 4005, 4013, 4014 When Restoring iPhone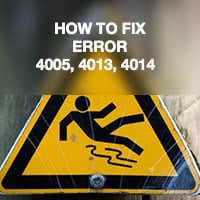 Most of the time, Apple products "just work", as Steve Jobs used to proclaim during his lifetime. Unfortunately, sometimes they don't. While error messages may get on your nerves from time to time, knowing the error code helps you find a solution on the web. Here are several solutions that will help you fix error 9, error 4005, error 4013 and error 4014 when restoring an iPhone.
Error 9, 4005, 4013 and 4014
While restoring your iPhone in iTunes or during the installation of updates, certain errors can occur. The error message you will get in these cases is formulated in this way:
"The iPhone [device name] could not be restored. An unknown error occurred [error number]."
The most common error codes are 9, 4005, 4013 and 4014. These errors are classified as critical errors, which means that they will definitely lead to an abortion of the update or restore process. The following steps might aid you in resolving the issue causing the respective error message.
How to fix iPhone restore errors
1. Use a different usb cable or another port
A quick and easy fix is hardware-related and can be accomplished with little to no cost: Try a different USB port on your computer running iTunes. If that doesn't lead to success, try another USB cable. Mechanical failure in the electrical connection of your sync cable can lead to strange issues with iTunes.
2. Force a reboot on your iPhone
If the above doesn't work for you, try fully rebooting your iPhone. You can reboot your iPhone by pressing and holding both the Sleep / Wake Button and the Home Button until you see the Apple logo. When your iPhone has finished rebooting and is unlocked, try restoring or updating in iTunes once more.
3. Update iTunes or reinstall iTunes
Perhaps your iTunes application is out of date. Try updating iTunes through the menu. If that doesn't lead to success, a reinstallation may be of help. Fully uninstall it and re-download the installer from Apple's website.
No luck? Contact Apple Support
If all of the above steps are not helping, you will probably need to contact Apple's support to make an appointment for a repair after some troubleshooting. Check the Apple Support website for more information.