AutoFill Credit Card Information in Safari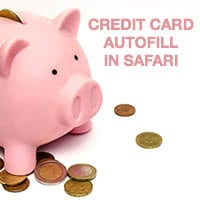 Entering your payment information on websites is not only time-consuming but also a security risk in some cases. Safari can make things easier and safer for you by applying the AutoFill functionality we know from desktop browsers and form fields to credit cards. You can even scan your credit cards using the built-in camera and they will be added to AutoFill, secured by your Touch ID fingerprint. Ordering stuff online is much easier when the majority of fields is automatically populated via this technique – here's how to AutoFill credit card information in Safari.
How to enable AutoFill for credit cards
Settings > Safari > AutoFill > Credit Cards

Open up your Settings app and go to Safari, then select AutoFill to view the settings overview for the feature. You can enable AutoFill for your personal contact info, which will include your street address and such. We will enable the Credit Cards toggle in order to add our payment information in the next step.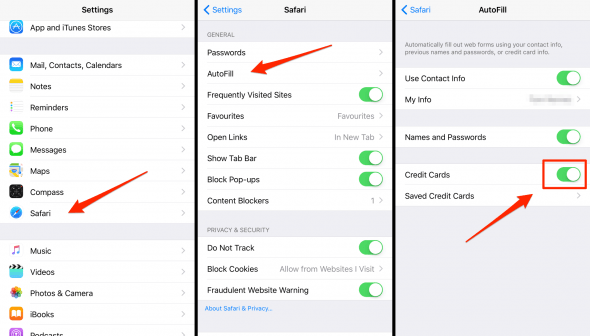 How to scan your credit card for AutoFill
Settings > Safari > AutoFill > Saved Credit Cards > Add Credit Card > Use Camera

Tap Saved Credit Cards while still in the AutoFill settings overview. This will take you to a list of payment details, which will probably be empty upon first viewing this settings page. Tap Add Credit Card and select Use Camera to scan your credit card. You can also add your details manually if you don't have physical access to the card but have the credentials handy. Otherwise, simply align the card silhouette in the overlay with your actual card while holding the card and iPhone still. Your iPhone will then analyze the image and extract all relevant card data.

Note that iOS does not store the CVV/CVC which is typically found on the back of your card as a 3-digit block. For shops requiring this type of verification number, you will still have to pull out the actual card or simply remember the checksum.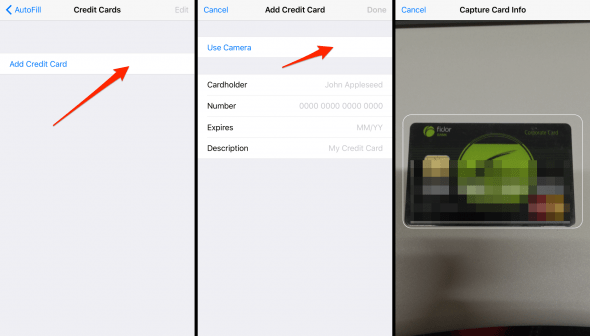 When prompted to enter your payment information in an online store while browsing the web using Safari on your iPhone, the browser should automatically fill in the blanks with the aforementioned data for you. You can even add multiple cards!