How to Install iOS Updates Overnight (Automatically)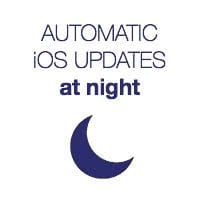 Don't want to wait for those huge iOS updates to download and install? No problem! Simply schedule iOS updates and have them download and install themselves over night. Apple's servers are often slow when major updates come out, which makes for plenty of waiting time when you follow the iSO update schedule. Thus Cupertino implemented a cool way to install updates. Here's a tutorial on how to install iOS updates overnight and spare yourself unnecessary waiting, you can even defer iOS updates until nighttime using this method.
Hint: Want to know how to keep your apps updated automatically?
How to schedule iOS updates overnight
Automatic iOS updates are sort of implemented in iOS, but Apple doesn't quite give us much control over the update mechanism. You can download an iOS update by going to the "Settings" app and selecting "General" and afterwards "Software Updates" and thus set your iPhone to update at night.
How to install iOS updartes overnight
Pre-downloading an update is necessary for the automatic update installation.
In older iOS versions the dialog window would only offer an option to defer the update to some random point in future, when the dialog would simply pop up again.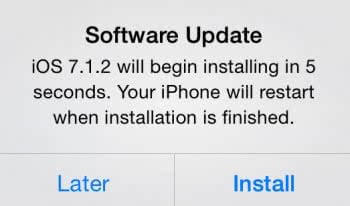 Now Apple offers two choices if you tap "Later" to defer an update. You can either select "Install Tonight" to schedule the update to take place during the night hours, while connected to power, or have iOS remind you later via the "Remind Me Later" button. The ideal timeframe is determined through Proactive Assistant, a feature which collects usage data and analyzes your routine for optimum efficiency.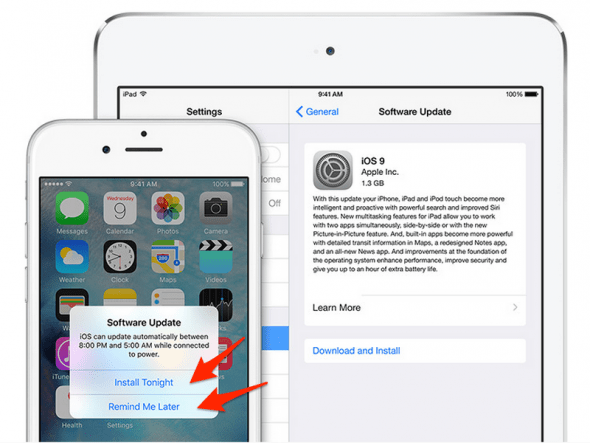 After you've scheduled your iPhone update, simply accept the terms and conditions of prompted to do so and you're set. Your iOS device will then update during the night, allowing you to continue usage until you go to bed, fully uninterrupted and free of annoyances.
Disable automatic iOS updates
You can also cancel the automatic update installation by going to "Settings" and "General". Now tap "Software Update", which will display whether a firmware update is currently scheduled along with an option to revoke the planned update.