iPhone Pedometer: Step Counter App Guide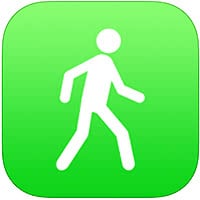 A pedometer is a device for counting your steps for fitness tracking purposes and is certainly no invention by Apple. In fact, the Pedometer was invented in 1780 and has been around for quite a while. Your iPhone however includes the necessary sensors for determining how many steps were taken during your day in a digital way, provided you carried your phone along for the walk. Counting one's steps goes a long way towards keeping track of your personal fitness and how much you are doing for your health. This is our guide for the iPhone Pedometer and Step Counter Apps on iOS.
Prerequisites: To count your steps using an iPhone pedometer app, we suggest setting a goal. If you own one of the newer iPhones, all you need is already built into the device and you won't actually need an Apple Watch. A sensible goal for someone who isn't used to exercising and spends a lot of sedentary time would be 3000 steps a day. But ideally, a human being should spend around 10000 steps per day walking, jogging or running.
Hardware prerequisites: The iPhone 5s and newer include the necessary sensors to count your steps reliably with the aid of the Apple M7 motion co-processor. The M7 chip or newer is necessary so that the iPhone can track your steps with minimum energy expenditure. Otherwise the battery would drain rather quickly. An option for users of older phones who are unwilling to upgrade would be the Apple Watch, which can serve as an extension with the necessary sensors.
How to enable fitness tracking on iOS
By default, iOS is already tracking your steps and displaying the results in the Health app. You can check your settings to make sure that fitness tracking is enabled. Open up your Settings app and go to Privacy, then select Motion & Fitness and check whether the Fitness Tracking toggle is currently enabled. Beneath this toggle are the apps that are currently allowed to access your fitness tracking data. By default, the Health app collects all of your fitness tracking data and displays it in handy charts. But there are also numerous third-party apps for more detailed analysis, goal-setting and more.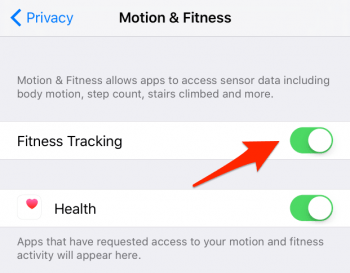 Keep in mind that your iPhone needs to be with you and switched on to track fitness data. It can be locked, however. While locked, the iPhone will still track your steps in the background.
The built-in step counter on the iPhone: Health app
The simplest way to check your stats is to open up the built-in Health app on your iPhone. It will automatically display your steps in the dashboard and keep track of any fitness data that is trackable by iOS. If you can't see your steps in the overview dashboard, simply go to Data > Fitness > Steps and enable the Show in Dashboard toggle.
The Dashboard is a quick and easy way to see your stats for a day, week, month or even a year at a glance.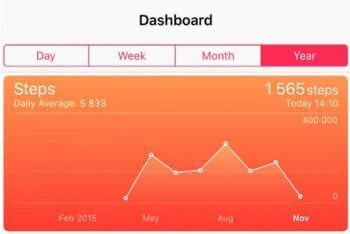 Counting steps using the Pedometer++ app
Several apps in the iTunes App Store are capable of taking the fitness tracking data and displaying it in appealing ways. One of these is the third-party Pedometer++ app, which you can get for free. It allows you to set a goal for the day and probably motivates you a little better than the stock Health app.