iPhone Virus Scan & Malware Check: SysSecInfo App
UPDATE:
This app is not available anymore. But we have an
updated article
to inform you about the necessity of a virus scan.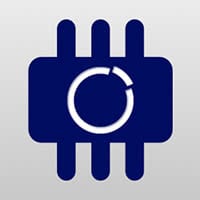 As far as the public is concerned, iPhones are not very exploitable by viruses or malware. But information security experts are well aware of the fact that rootkits and iPhone spyware do exist, often times they are based on the same exploits that are used for jailbreaking your iPhone. Thus it can't hurt to run an iPhone virus scan or malware check from time to time. Few apps actually provide this service, which is why Stefan Esser – who is also known as i0n1c in the cydia and hacking scene – has now released an app called System and Security Info in the iTunes App Store. Here's how to start an iPhone Virus Scan & Malware Check to keep your iOS device clean.
How to install System and Security Info
Surprisingly, the app made it through the review process and is available in the iTunes App Store. Apps that even tangentially treat the subject of jailbreaking tend to be rejected. What is new and different about this app is that it actually allows you to look deep into the iOS security parameters and check for anomalies.
The app is available for $0.99 and can both detect several types of malware as well as signs of a jailbreak on your iPhone, iPad or iPod touch. Aside from the security features, the app also allows you to check various kinds of system information, such as the load on your iPhone's CPU (central processing unit) or the memory pressure on your RAM. You'll also find some handy information on disk usage and running processes, which can even be verified against their SHA1 checksum so that the authenticity of a program is ensured.
At the very bottom, in the Security section, you'll find two very interesting features of the app. You can check for signs of a Jailbreak and scan for any Anomalies.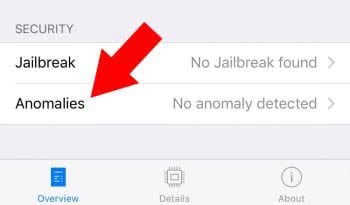 If the Anomalies screen displays a list of items that are all marked green, no apparent evidence of tampering could be found on your device. Note that this doesn't necessarily mean that no one has messed with it – it simply means that none of the detection mechanisms and signatures of the app have found a potential threat.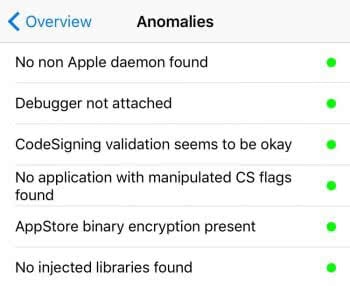 If any of the points on the Anomalies screen are red, their description will hint to what is possibly wrong with your system. Note that a jailbroken device should activate some of those flags, if not all of them, depending on the configuration and installed packages.
If you have not installed a jailbreak at any point but find some of those alerts active, we highly suggest giving your device a full restore treatment without restoring your backup to the internal storage. Then check again whether the app finds any kind of threat. If the device appears to be clean, try adding the backup and scan once more.