How to Send And Receive SMS From Your iPad & Mac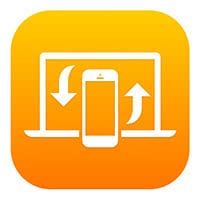 Apple sure knows how to connect your iPhone, iPad and Mac in new ways! Via the so-called "Continuity" feature, we can now send and receive regular SMS messages with our iPads and Macs. Here's how it works!
New generations of users will probably consider the fact that you can now make and take regular calls using your desktop computer as normal, thanks to Apple. This is a guide on how to send/receive regular SMS from your Mac or iPad, effectively forwarding the cellular (GSM) data from your iPhone to the rest of your devices. Some people also call this feature "SMS Relay" or "SMS Forwarding".
SMS forwarding from iPhone to Mac or iPad
Prerequisites and System Requirements
When done correctly, no additional costs will be incurred by forwarding all SMS from your iPhone to a Mac or iPad. Apple uses your regular Bluetooth and WiFi connections to link the cellular network of your iPhone to the rest of your local network. See this article on the Apple website for an updated list of supported devices for the Continuity feature.
Make sure that all of your iOS devices (iPhone, iPad, iPod touch) are on the latest version of iOS. Also check if there are any pending system updates for your Mac and install them as needed, before proceeding with this guide. This will ensure the best results. Note that all of your devices have to be connected to the same WiFi or Local Area Network (LAN) for Continuity to work to the full extent.
Setting up Continuity on your iPhone
Settings > Messages > Text Message Forwarding

Once you've made sure that all of the prerequisites are met, open up your Settings app on your iPhone. From here we'll go to "Messages" and then "Text Message Forwarding" to see the list of available devices. Make sure that your iPhone's WiFi is switched on and you should see your Mac or other iOS devices. Enable the toggle for the desired recipients of Text Message Forwarding.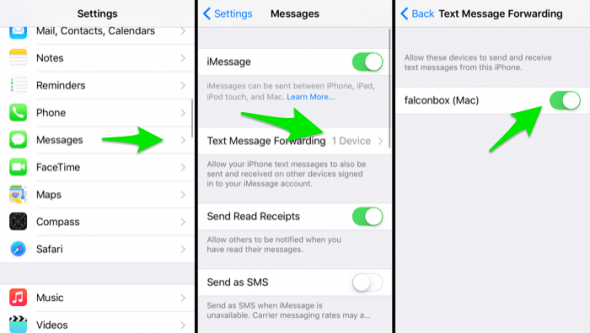 Confirming the forwarding prompt on iOS and Mac OS X
On your Mac, open up the Messages app, if you haven't done so already. A special kind of popup will appear, prompting you to enter a six digit code on your iPhone. This is required for establishing the link between the devices.
On an iPad or another iOS device, you'll see a similar prompt that instructs you to enter a six digit code on your iPhone. Simply read the code off the display of your secondary device, then enter it in the corresponding field on the Phone. That's it! Enjoy the borderless freedom of SMS texting across all of your Apple devices!