How to Create Contact Groups on Your iPhone

Ever wonder how to group contacts on iPhone? Contact groups are a great way to keep your contacts organized, especially if your iPhone is used for both work and private purposes. One way to manage your group contacts is to log on to iCloud.com and create them from there – they will appear on your iPhone as well.
This might however be impractical for people on the road and heavy duty Address Book users. If you wish to manage your groups on the go, directly on the iPhone, there are other options! This guide outlines one of them by using one of the best apps related to contact management on iOS.
How to organize and group contacts on your iPhone
Phone App → Contacts → Plus sign → [name group] → Done

There is an affordable app that allows you to organize your contacts into groups, directly on your iPhone. You can also use "Address Book Plus" for group messaging or e-mailing. You can get "Address Book Plus" on the iTunes App Store.

Once installed, we can create a contact group by tapping the upper right plus sign and name them appropriately. The choice of the naming scheme is fully yours! Tap "Done" when you are finished naming your contact group, then tap on the newly created group's name. From here we can add new members or add existing contacts from our contact list, stored in the address book app of our iPhone.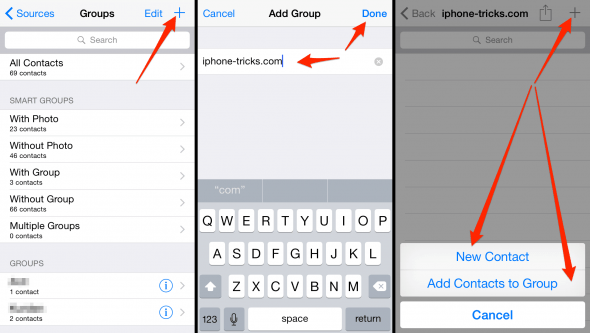 You want to hide certain contacts or contact groups on your iPhone? Learn how to hide contacts with a simple trick.