How To Delete All Notifications At Once In The Notification Center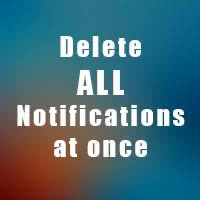 You can get an overview about your last unread messages in your Notification Center. There are displayed notifications from apps, but also received messages and missed calls. People who like to keep order on the iPhone, may want to delete those notifications from time to time. So far you had to do this one by one – notification by notification. Now you can delete all notifications at once.
Prerequisites
For this trick you will need an iPhone with 3D Touch, which means an iPhone 6 or later.
Delete all messages at once
Go into the Notification Center to delete all messages at once. You can open it by swiping downwards from the top of your screen. There you will find all notifications that you have not yet reacted to (unread, not answered, unopened etc.).
Click firmly the "x" icon at the right top corner and choose "Clear All Notifications".

This way you delete all messages in the Notification Center and not only the ones from today.