Bose Connect – Play Music On Two Bose Headphones

If you own one of the latest Bose Bluetooth Devices, you will love Bose "Share Music". Now you can listen to music on your iPhone with two Bose Bluetooth headphones or multiple other Bose Bluetooth products. All you need is a new "Bose Connect" app and the compatible headphones.
Get "Bose Connect"
To fully use this feature you have to download the app Bose Connect. It is available for free in the App Store.
Bose "Music Share"
The Bose "Music Share" feature is very handy when you want to share music with a friend and listen to it at the same time or when you fly somewhere with your partner or friend. Then you can watch a movie on your iPhone or iPad together. You can also use it at the gym to listen your workout playlist or in the public transportation for entertainment.
Connect two Bose headphones with one iPhone
Open "Bose Connect" on your iPhone and make sure that the Bose Bluetooth headphones are in reach of the iPhone (max. 30ft). If you cannot see the headphones inside the Bose Connect app, turn the headphones off and back on.
To connect Bose headphones to iPhone simply activate Bluetooth on your iPhone and switch on the Bose headphones. They should now appear in your Bluetooth settings ("Settings" → "Bluetooth") and once you tap on them in your list, they should connect.
If there are multiple Bluetooth headphones in range, you can use the "Music Share" button to connect a second pair of headphones.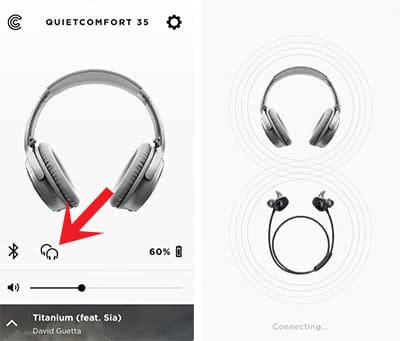 Compatible Bose headphones
Not every pair of headphones is suitable with this feature. At the moment (June 2018) the "Music Share" function, that we present below, is compatible with the following Bose headsets.
The links are forwarding you to Amazon.com or Bose.com, so you can also buy your own Bose headphones!
Compatible Bose Bluetooth Speakers
The links are forwarding you to Amazon.com, so you can also buy your own Bose speakers!