The Best Winter Gadgets For iPhone Fans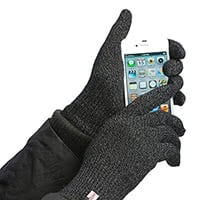 Nobody wants to freeze while walking around and answering a call, typing a message or choosing a new song to listen to. Some smart gadgets bring solutions for these problems. They can make the life in cold temperatures so much easier. We have compiled some smart gadget for you to bring you through the rest of the cold season.
2in1 Power Bank and Hand Warmer
If you often are outside in the cold and yearn for warmth, we would recommend the power bank with an integrated hand warmer. This gadget is not just good as a spare battery, but also a pocket heater. Thanks to the compact size, it fits into every pocket.
2in1 Hand Warmer and Power Bank at Amazon.com
Night Vision Camera for the iPhone
With a night vision and thermographic camera you will not miss anything in a dark night. The True Thermal Sensor works in total darkness or in bad visibility. Even at day time this tool can be helpful, because you can determine leaks in water pipes or electronic wires.
Touchscreen Gloves
A few years ago, you would search in vain to find gloves that can be used with an iPhone. Today there are plenty of them on the market. The conductive material in the fingertips of the thumb, index and middle finger makes it possible to answer phone calls, check emails or send messages, while you are outside in the cold. The pinch-to-zoom function also works just fine with the winter gloves.
If these are a little too thin for you, because you like outdoors, we have another pair of touch gloves for you. So you can go skiing and still use your iPhone, when you take a break.
GPS Ski Goggles
Attention Skiers, you don't want to miss this gadget on your next ride. The Oakley Airwave Ski Goggles have an integrated heads-up display that is connected with the iPhone via Bluetooth and an app. While you are going downhill, you can get information about your speed, the height difference and it can load a map with the surrounding area. And of course it can play your favorite music.
Headset beanie
So far you had to decide between beanie and headset, or you had to wear the headset on top of the beanie with a bad sound quality. Not anymore! It is finally possible to properly listen to music in winter and staying warm at the same time. The headset beanie has built-in speakers, which allow a good sound quality without using ear plugs. With the headset beanie you can also answer calls without freezing.
Wellness Neck Pillow with Speakers
After a long day of work, you are longing for a relaxing night. The wellness neck pillow with the massage function will give you the needed relaxation. Besides that function, it also has two built-in speakers, so that you can listen to relaxing music or an audio book. The perfect night for cold winter days with a neck massage and relaxing music.