What Are The Alternatives To The Safari Browser?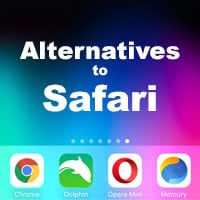 Safari is the web browser that is pre-installed on all iPhones and cannot be deleted either. However, nobody is forcing you to use Safari. You can still hide this app in a folder and use a different browser. We show you what alternatives to Safari you have.
iPhone browser – 4 alternatives to Safari
We picked four web browser as an alternative to Safari and want to present them to you. Then you can decide which one is the best for you.
Chrome – the Google browser
Google's own browser is one of the most popular alternatives to Safari. For people, who have a Google account, is the use of Chrome especially interesting.
The start window displays – not surprisingly – Google's intelligent search field, where search queries and URLs can be entered. It will already show search results while you are typing – meanwhile Safari added this as well.
Bookmarks and passwords etc. can be synchronized via the Google account (just like the iCloud key chain).
The browser has a language search, so that you don't have to type that much.
Chrome is fast and scores with its simple and uncomplicated interface. The main con for Chrome is the connection to Google – the "data leech".
Dolphin Web Browser
Another interesting alternative to Safari is the web browser Dolphin. It can communicate with Chrome, Firefox and Safari on your computer via add-ons, which enable the exchange of links and maps, etc.
This browser also offers an automatic synchronization of the browser history, bookmarks, passwords and opened tabs.
Via gesture control you can reach your favorite websites quicker.
You will need to get used to the usage of Dolphin. However, if you are looking for something "different", Dolphin will be the right choice.
Opera Mini
Opera Mini is one of the fastest mobile browsers for iPhones – says Opera and is totally right with it. When you open a website, it will be directed to the Opera server and is displayed in a compact version. That's fast and saves data volume. Hence, especially for traveling this browser should be the best choice.
The Opera browser has a night mode, which is more pleasant for reading in darkness. It also has a sync function.
Best browser on iPhone?
It is difficult to choose a champion from the four candidates, because they all have their pros and cons. In the end it depends on the expectations you have towards a browser. Opera Mini is very fast, Dolphin is something different and Chrome is good for Google users.