How To Charge iPhone 7 While Listening To Music?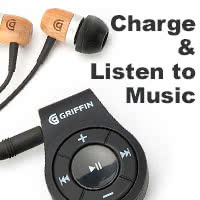 Who would have thought that in 2017 it is not natural to charge a smartphone, while listening to music via headphones. The iPhone 7 is the first iPhone that has no extra port for headphones anymore. Hence, iPhone 7 users raise the question: What if I want to charge my iPhone 7 while I am listening to music? We have three answers to deal with this problem.
iPhone 7 – Lightning port as headphone jack
The 3.5mm jack plug is past. If you still want to use wired headphones, you have to utilize the Lightning-to-jack adapter, which is included with the iPhone 7. However, you might have the problem that you want to listen to music and have to charge your iPhone at the same time – both now need the Lightning port.
So what shall you do? Here are three solutions for this problem…
Griffin Bluetooth Headphone Adapter
If you are in hold of expensive wired headphones and you want to use them on your iPhone 7 in future as well, you can get a cheap adapter on Amazon. The Griffin Bluetooth Headphone Adapter for around $20 converts wired headphones into Bluetooth headphones.
The use is pretty easy: Just plug in the jack of the headphones into the adapter and connect the iPhone with the Bluetooth adapter.
The adapter offers buttons to control the music playback and the volume. It also has a clip, so that you could clip the adapter onto your belt.
Belkin Lightning Splitter
The Belkin Lightning Splitter, which is available for $40 on Amazon, has a different approach. It does not convert your wired headphones into Bluetooth headphones, but changes one Lightning port into two ports. This way you can listen to music by using one Lightning port (just use the jack-to-Lightning adapter, which is included in the iPhone 7 pack) and charge your iPhone 7 via the other port.
As it is more expensive than the other gadget, it is only second choice in our opinion.
Bluetooth headphones
A more expensive, but long-term solution may be an investment in new Bluetooth headphones. Besides the original Apple earphones for around $160 – the so called AirPods, you can find by far cheaper products on Amazon. The entry-level price on Amazon for cheap Bluetooth headphones is at $15.
The usage of Bluetooth headphone obviously solves the problem, because you are not using the Lighting port with the Bluetooth earphones. Hence, the port is free for charging the iPhone 7 while listening to music.