Stamp Your iPhone Photos With Watermarks To Protect Them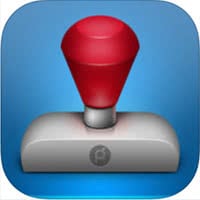 Watermarks don't prevent that people misuse your photos without permission, but they at least show, who the originator is. Although iOS has no feature for this, the slogan "There's an app for that" hits the nail on the head. An app will make it easy to stamp your photos with watermarks, because you can save the created watermark so that you can use it again multiple times.
Get "iWatermark Free"
We want to show you a method to put watermarks on your photos by using the free app "iWatermark Free". You can get the app in the App Store on your iPhone. You can utilize all features of the app within the free version. The only bad side is that the app will put their brand on your photos as well. If you don't want the watermark of the developer, you have to get the pro version "iWatermark" for $1.99. The trick, that we will show you now, is based on the free app.
Create watermark & stamp photos with watermark
Open iWatermark Free on your iPhone. Tap Select Photo(s) to choose one or more images from your library and to upload them into the app. You can also take a picture by choosing the respective button. Select a photo or many photos, by tapping them. Click Done when you selected all photos, that you want to put a watermark on.
Now you will be back on the main level, where you see the menu again. Click Create Text Watermark.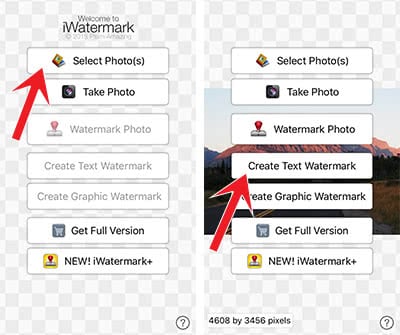 In the bottom left corner is the section Edit. In the dropdown menu you will see multiple tools to design your text watermark. You can customize the opacity, text color, font size, etc. Please keep in mind that the brightness in your pictures is not always the same. So you have to make sure that the watermark has a certain level of intensity, so that it is visible on all your photos.
Once you are happy with the customization, tap Save & Exit. In the next step you can save the watermark for your next projects, so that you just need to load it. Give the watermark a name and click Save & Exit.
Use the saved watermark
The next time you are using this app, you can choose Watermark Photo after the selected photo is loaded. This way you can add the saved watermark on your pictures to save you some time.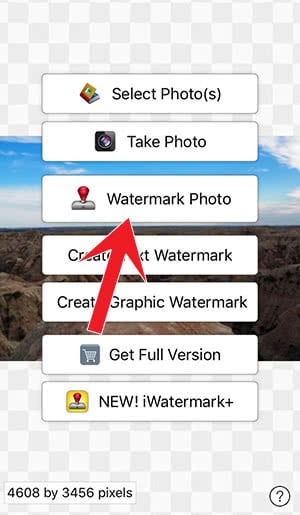 "iWatermark Free" in App Store