Wireless Charging – How To Charge iPhone Battery Wireless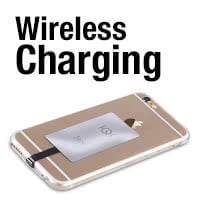 The wireless charging of iPhone batteries is still a dream of the future and is on top of the wishing list of many iPhone users. However, there are some gadgets available, which already make it possible to charge the iPhone wireless or inductive.
Wireless Charging on iPhone
Wireless Charging is a collective term. It mostly describes the option to charge a device – for example a smartphone – inductive. Apple is only using the inductive charging for the Apple Watch so far.
We want to present you two products with the necessary equipment, which you can utilize for wireless charging or inductive charging. All links lead you to the respective product page on Amazon.
iQi Mobile & QiStone
Compatibility: iPhone 7, 7 Plus, 6s, 6s Plus, 6, 6 Plus, SE, 5s, 5c, 5
The iQi Mobile Wireless Charging Receiver is available for only $15 at the moment. This product complies with the so-called Qi standards, is only 0.5 mm thin at the thinnest spot and 1.4 mm at the thickest spot. It has an ultra-thin Lightning plug with a flat cable. The charging receiver can only be used with any soft iPhone case. The most iPhone cases are compatible though. The receiver will be folded around the back, so that it disappears completely underneath the iPhone case.
In addition to the charging receiver you will need a charger, which is compatible with the Qi standard. The QiStone+ portable charging battery is available for $49 at the moment.
Mophie Juice Pack Air & Mophie Charge Force
Compatibility: iPhone 7, 7 Plus, 6s, 6s Plus, 6, 6 Plus, 5s, 5c, 5
The Mophie Juice Pack Air is a battery case with the option of inductive charging. The case is available for many iPhone models. The price depends on the color and iPhone model. For example the iPhone 6 and 6s model is between $60 and 100. The model for the iPhone 7 is available in all colors for $100. This case combines the inductive charging with a battery case as an extra battery.
You will need the Mophie Charge Force for the inductive charging, which is available in different designs. The desk version costs around $60 and holds your iPhone via magnet while it charges it inductively.