5 Calendar Apps Alternatives To The Apple Calendar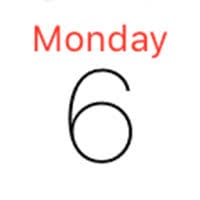 A clear and easy to use calendar is a must for many iPhone users. However, many people are also unhappy with the pre-installed Apple Calendar, because it doesn't have many features and the interface isn't intuitive enough. Especially if you have to organize many events, you will be happier with a calendar app. The App Store offers lots of alternatives to the Apple Calendar and that's why we have compared the five most popular calendar apps for you.
Fantastical 2

Fantastical 2 is one of the most popular calendar apps in the App Store. Unlike the Apple Calendar, this app has an extended range of features. Events and reminder are created quickly, displayed clearly and edited easily. Fantastical 2 supports all services, which the pre-installed Calendar app does. Even a connection with macOS works perfectly.
miCal

Easy, clear and nice event planning is awaiting you with the calendar app miCal. The app's dashboard displays current appointments, tasks and birthdays, as well as the current weather and an overview of the month. MiCal also communicates with the Apple Calendar. As usual the data can be locally used via services like iCloud, Google Calendar or Outlook. The calendar app miCal promises 100% data protection, because the app itself is not sharing data with external services or other servers.
Calendars 5

Many iPhone users love the app Calendars 5. The app operates intelligent and integrates tasks and appointments. The interface is easy to use and clear, so that you have a great overview of the upcoming events and tasks. The focus of this app is displaying only relevant information, so that you won't be distracted. You can get the app with a one-time purchase, monthly or three-month subscriptions.
Week Calender

The app Week Calender offers a clear and detailed overview of the day, week, month or even a whole year. Appointments and events can be shifted, copied or inserted easily via drag & drop. This calendar app can be customized by your needs, e.g. you can change the week numbering and use the repeating functions. However, a big disadvantage is that you can only get certain areas like the weather data and week numbering via In-app purchases.
Awesome Calendar

Even in the Awesome Calendar you will keep track of your events, to-do's and notes. Fast snapshots with the camera can be added to your events as well and you can share them with others. The big disadvantage of this app is also the In-app purchases. So you have to pay for certain flexibilities like holidays, weather or week numbers.