Apple Watch Does Not Connect – Troubleshooting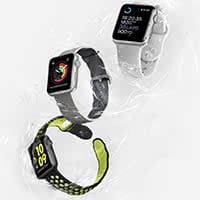 While the iPhone has no problem, if the Apple Watch is not connected, it is problematic the other way around. If the Apple Watch isn't connected to the iPhone, you can't really use the Smartwatch without iPhone. There are only a few features, that are still available like the watch, Workout app and pulse meter. Notifications, calls, emails or the usage of certain apps is impossible without an active connection to the iPhone. So the problem should be fixed as soon as possible. We give you some tips, how you can reconnect your Apple Watch with your iPhone.
First of all, make sure that the Apple Watch and iPhone are in reach of each other. The maximum distance is 16ft (5m).
Is the flight mode activated? If yes, you have to turn it off and activate Wi-Fi and Bluetooth. These settings are easy accessible from the Control Center of the iPhone. To open it swipe upwards from the bottom of the screen.
Afterwards restart your iPhone and Apple Watch. Similar to the iPhone restart, you press and hold the side button of your Smartwatch until you see "Power off" on the screen. Pull the slide button to the right and wait until the display turns off. Press and hold the side button again to turn on the Apple Watch. You can release the button as soon as you see the Apple logo.
If these tips don't solve the issue yet, we would recommend to unpair the devices. Follow the steps below to disconnect your Smartwatch from the iPhone:
Apple Watch Settings > Reset > Erase all Content and Settings
Now start the Watch app on your iPhone, open the dialog "My Watch" and choose the Apple Watch. Tap the info icon on the right side and tap "Unpair Apple Watch". Confirm it and the devices will be completely unpaired.
Now pair up the iPhone with the Smartwatch again and it hopefully will connect as usual again.