Wi-Fi Scanner For iPhone With The AirPort Utility App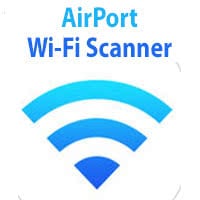 AirPort Utility is an app by Apple that usually supports managing your own wireless network. A hidden setting can turn AirPort Utility into a Wi-Fi scanner, which displays information about the accessible networks with their transmission power and the used channels. This trick doesn't only help to set up your Wi-Fi network. It also assists you in detouring disruptive Wi-Fi networks.
Use AirPort Utility as Wi-Fi scanner
You can download AirPort for free in the App Store. As soon as you have installed the utility app, open the "Settings" on your iPhone and scroll down until you find "AirPort". Open the appplication and turn on the "Wi-Fi Scanner" by tapping the slide button.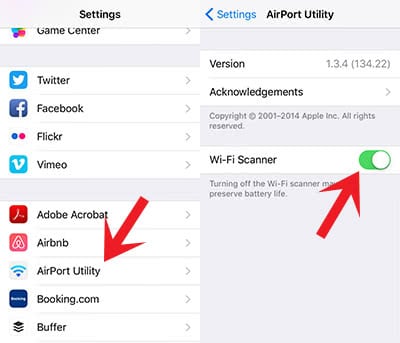 Scan for free Wi-Fi with AirPort Utility
Now open the "AirPort" app and tap "Wi-Fi Search" in the top right corner. Afterwards you tap "Scan" on the next level. It's in the top right corner as well. The app now scans all available Wi-Fi networks nearby and you successfully turned it into an AirPort Utility Wi-Fi scanner.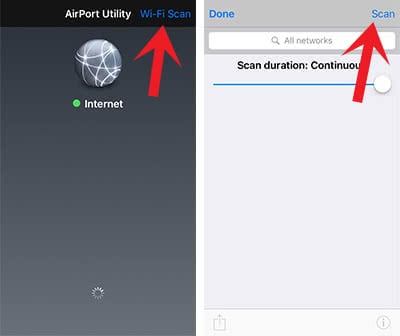 Get information about Wi-Fi Networks
Once the scan is finished you will see all networks with Mac address, RSSI and channel. If you tap one of them, the app will additionally display the time period of the measurement result for the signal (RSSI) and noise in dBm. Information about the channel use can be displayed via the "i" icon at the bottom right. This is pretty practical, if you want to avoid a disruptive Wi-Fi network.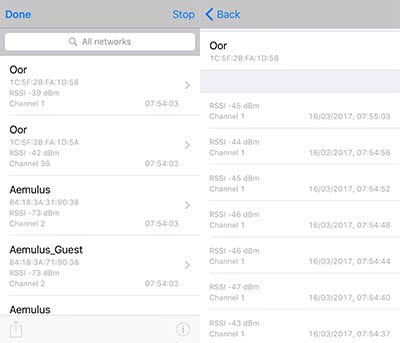 As soon as you have got all information, we recommend turning off the Wi-Fi Search in AirPort, because this feature drains your battery.
Tip: Using too much data? Learn how to save data with your iPhone with a few quick changes to your settings.