How To Tell If A (Used) iPhone Got Stolen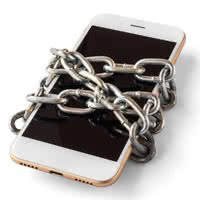 New iPhones are expensive, whether you buy them with a phone plan contract or without a plan at the Apple Store. If the previous owner of an iPhone took care of it, nothing would speak against buying a used iPhone, especially because iPhones are very durable. If you decide for buying a used iPhone, you should make sure that the iPhone is not a stolen one. In this case, the iPhone is not usable and you might even be liable for prosecution if you know the origin of the iPhone.
3 hints for a stolen iPhone
If someone offers you an iPhone for a price that you cannot say no to, you should ask yourself the following questions:
Is the price realistic? Did you find the iPhone model somewhere else with a similar price? Is the offer too low that it stinks?
How are the circumstances? Do you meet the seller after a phone call or did the person came to you in a less bustling street? It happens more often than you would think and should obviously chime your alarm bells.
Do you know anything about the seller? Did you or a friend buy something from the seller before? If you buy something from a merchant online, you should read or search for reviews and testimonials first.
If the answers to these questions cause doubts in the origin of the iPhone, you should not buy it and look for a more serious offer. Otherwise, you can find out if a used iPhone got stolen with a simple trick.
Was the iPhone deleted & is it ready for a new setup?
The feature "Find my iPhone" allows to detect a lost or stolen iPhone. If you want to delete the iPhone from someone's account (via iTunes or the iPhone settings), you have to use the associated Apple ID and password in case the "Find my iPhone" feature is active. Otherwise, you cannot reset the iPhone.

This also means that a theft or buyer of a stolen iPhone will be unable to reset the iPhone without the password of the previous owner.

Therefore, you should make sure that the iPhone was deleted before you buy it. Never buy an iPhone that is setup already! Insist on doing the installation on your own (starting at the white display where you have to type in your own Apple ID).

Settings → General → Reset → Reset All Content& Settings

If you see that the iPhone is already setup (when you get to the Home Screen), ask the seller to reset the iPhone. He has to go to Settings > General > Reset > Reset All Content & Settings. If there still is a connection to an Apple ID, he has to enter the password. If he doesn't know it, you definitely shouldn't buy the iPhone.

As a rule of thumb: Only buy an iPhone that is deleted and ready for a new setup!