How To Use Your iPhone As PC & Mac Assistant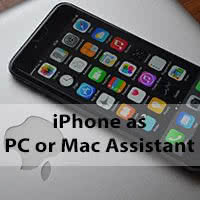 If you don't want to get rid of your beloved old iPhone and still want to use it, you can use it as an assistant for your PC or Mac. There are many different options how to use an old iPhone reasonably, for example as a keyboard, an extended monitor, or alternative mouse. We show you in this trick what options you have.
iPhone as external hard drive
If you want to make room on your hard drive and your cloud is already full, you can use an old iPhone as a mobile hard drive. The program iFunbox makes it possible. You can download it for free to your Windows PC or Mac. Via drag & drop, you can save the files from your computer to the connected iPhone. You can also copy them to the computer later if you need to.
iPhone as an extended monitor
The app GoodDual Display enables to set up your old iPhone as a second monitor for your Mac. You just have to download the free desktop streamer by Elinasoft from this website. If you connect your iPhone with your Mac via an USB chord, you can decide whether you want to use the iPhone as a duplicated or an extended monitor.
iPhone as a keyboard
There are many options to use a smartphone as a second keyboard. One of these is the free app Chrome Remote Desktop that you have to download for your iPhone and computer. Once you installed the application on both and connected with each other, you will see your desktop on the iPhone display. Then you can zoom in and out on your app, use the arrow, or the iPhone keyboard for typing. An alternative app is Remotely. In contrast to the Chrome Remote, it will not show the whole display, but the typical iOS interface, which you can use to browse through the folders.