How to Tell if Your iPhone Suffered Water Damage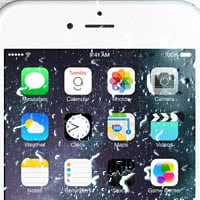 Are you planning to buy a used iPhone? Great! Did you think of checking whether your iPhone suffered water damage? Once an iPhone makes contact with liquids or steam, Apple (and others) will be able to check. This affects the kind of warranty repairs you can expect and can be quite detrimental to the value of an iPhone. Apart from warranty issues, there is of course the fact that an iPhone with prior water damage probably won't live as long as an undamaged unit.
Thus you should take a minute to learn how to spot iPhone water damage by checking the liquid contact indicator (LCI) on the iPhone in question. Every iPhone starting with first generation up to iPhone X has a LCI as an iPhone water damage indicator installed. This is also a great point to check when you want to sell your iPhone.
Where is the LCI located?
Apple provides a handy table that lists and visually illustrates all of the different indicator positions for the different generations of iPhones. The locations are the same for the iPhone, iPhone 3G and iPhone 3GS water damage indicator as well as the iPhone 4 and iPhone 4s water damage indicator.
The LCI changed position with iPhone 5, iPhone 5C and the iPhone 5s water damage indicator is now located in the SIM-card slot. Apple has so far kept the position since iPhone 5, so the iPhone 6 water damage indicator as well as iPhone 6s, the iPhone 7 water damage indicator, the iPhone 8 water damage indicator and the iPhone X water damage indicator are all located in the SIM-card slot. If you see a red spot, your indicator has made contact with or detected water/steam in its vicinity.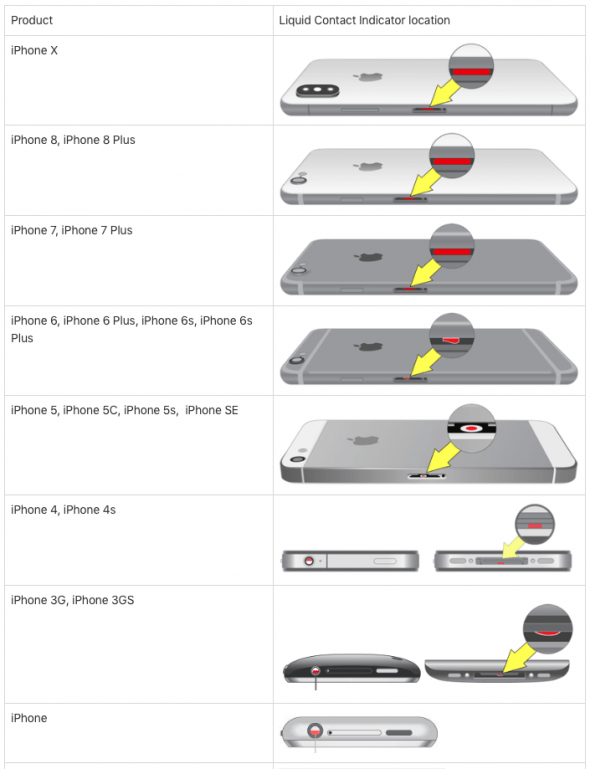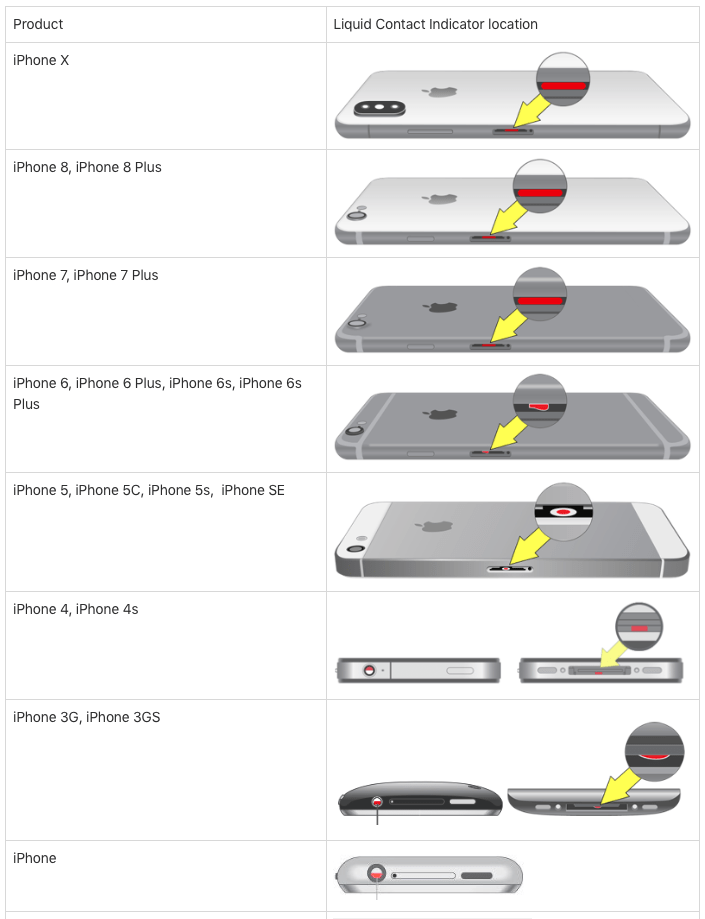 Are the indicators reliable?
The LCI can be triggered by hot steam, or through other situations in which there is no actual iPhone water damage. Apple has had a history of false positives with its' 3M-manufactured LCI's and they've had to correct its stance in multiple cases. Users were complaining of being denied replacements on the basis of activated LCI's, while their units had no contact with water whatsoever. Taking a hot bath or a steamy shower with the iPhone in the same room is the most common cause for a false positive. Since the initial problems however, Apple has improved their procedures and indicator strips. Typically those indicator strips are white or silvery in color and change to red when tripped. Unfortunately, they only serve to give a rough idea of whether the iPhone has been exposed to water.
Is the iPhone waterproof?
Note: Though the iPhone SE is not considered waterproof as test if the iPhone SE is waterproof had amazing results. The iPhone 7 is considered waterresistant as well as iPhone 7 Plus, iPhone 8, iPhone 8 Plus and iPhone X. Read more about waterproof iPhone models here.
Water Damage = Loss of warranty
Once the indicators strip was activated your iPhone will no longer be covered by warranty to the full extent. Appls Store employees know where to check for water damage. But as established earlier the strip might have been activated without cause. Proving this might be difficult though.
If you did drop your iPhone and it may have gotten wet you do not have to panic right away. There are a few handy tricks to save your iPhone by drying it out in a controlled manner. Hint: using a blowdryer is not on the list. Learn what to do, when your iPhone got wet.