Apple Music For Students Only $4.99 Per Month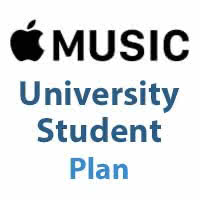 Apple Music has been offering a special discount for students for quite some time now. A subscription only costs $4.99 per month. Although this is not a new Apple Music plan, lots of students don't know about it. That's a good reason for us to show you how you can subscribe to Apple Music for a monthly rate of $4.99 through the Apple Music student discount.
Requirements to get Apple Music for 4.99
The requirement for the student discount is that you actually are enrolled in a university or college. The verification of your enrollment will be done by UNiDAYS. You can find out if your university is participating in the UNiDAYS program while registering for the subscription.
Did you know that Spotify Premium also has a student discount and you can get Spotify Premium and Hulu for $4.99 per month? Follow this link to find out more!
Therefore, it is impossible to get the student discount for Apple Music without being a student.
Subscribe to the Student plan for Apple Music
If you want to subscribe to a student plan, you have to open the "Music" app and go to "For You". You will see a note that gives you the opportunity to pick a plan. Click "Choose Your Plan".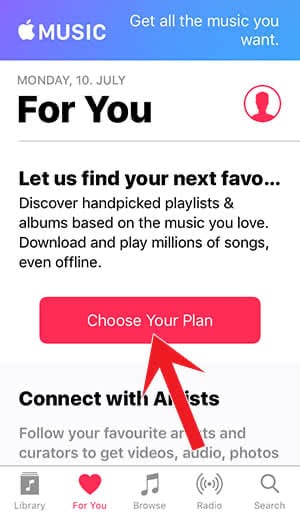 On the next level, you can choose one of the currently three plan options: "Individual", "Family" or "University Student". Select it and click "Verify Eligibility".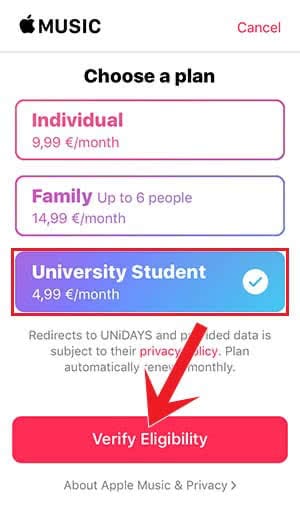 Now enter your email address and state which university you are enrolled in.
You can basically enter your private email address. Some universities, however, want you to use the university Wi-Fi network, as well as the university email address.
If you cannot find your university, yours isn't participating in the UNiDAYS program. Unfortunately, you can't use the Apple Music discount for students. But you can try to get your university or school registered with UNiDAYS. This may take a while however.
Tap "Next".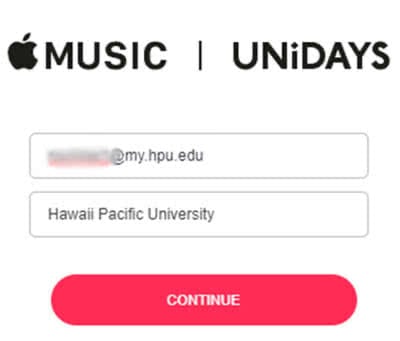 You now are requested to verify that you are a student. It will ask you to click the link in the email that got sent to your email address.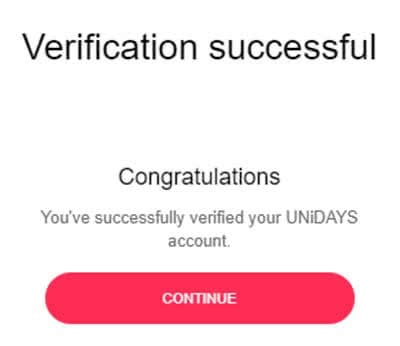 It also could be that you have to go to your university's website in order to sign in to your student account. Each university handles this procedure differently. Just follow the instructions until you can complete your Apple Music student account.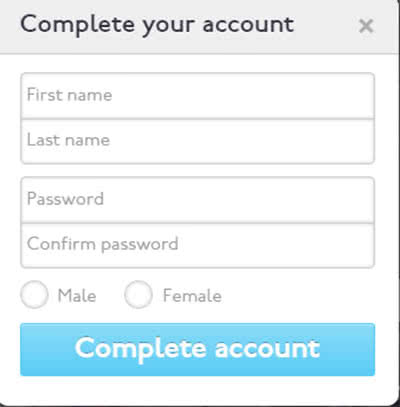 In order to finish the whole subscription, you have to open the Apple Music app again. Tap "Start Student Plan" and enjoy a broad music selection for less money.
Tip: Want to buy a new MacBook or iPad? Save real money with the Apple Student Discount!
Apple Music Student Plan
A few things that you should know:
Your student plan runs for $4.99 as long as you don't cancel it.
UNiDAYS will proof your enrollment regularly. If you are not enrolled anymore, it will automatically switch over to the Individual plan for $9.99 per month.
If you are using the student plan for 4 years, it also will switch to the $9.99 plan.
Are you using Apple Music a lot? Even if your are already an expert we have a combined a few tricks every Apple Music user should know.