Reset Jailbroken iPhone Safely and Erase Cydia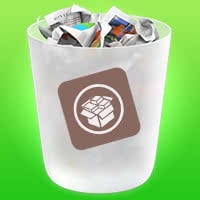 This is a guide on how to remove a jailbreak from your iPhone. Jailbroken devices have access to large amounts of software in Cydia, which is unavailable in the iTunes App Store, but they trade this additional freedom for the major parts of their iPhone's security. Thus many users want to return to a non-jailbroken iPhone and rather keep the sandboxing features, which keep their data safe and ward off spyware and adware.
There are three main ways to reset jailbroken iPhones. You may either restore the device directly from iTunes, or put it into DFU mode and then restore it to the latest iOS version, or you install "Cydia Impactor" and let Cydia restore your iPhone. The last method lets you keep the currently installed iOS version, which is great if you are planning to sell the iPhone with its "jailbreakability" intact. All three methods result in a complete reset of the device and remove Cydia. Of course, we first recommend a thorough backup of any important items on your iPhone in case anything goes wrong.
Restore your iPhone with iTunes
A full restore using iTunes is ususally the best way to go, unless you want to stick with an outdated version of iOS for the aforementioned reasons. Check out our full guide on how to backup and restore an iPhone to its factory defaults and a fresh operating system. A quick rundown of what you have to do:
Connect iPhone to Mac or PC using a cable
Launch iTunes if not already opened
Select your iPhone by clicking on the tiny icon
Click "Restore" and follow the on-screen instructions

Restore your iPhone in DFU Mode
If the above doesn't work for some reason, DFU mode might be the right trick for you. You can enter DFU Mode by pressing and holding both the Home Button and the Sleep/Wake Button until the Apple logo appears. Let go of the Sleep/Wake (Power) Button at this point but keep holding the button. Your iPhone will now launch into DFU mode. Connect it to a PC or Mac to restore it from a backup or restore it as a new iPhone.
Restore your iPhone using Cydia Impactor
This one is especially handy if you are aiming to sell your iPhone, but retain the ability to be jailbroken. Apple typically gets rid of any vulnerabilities that allow a jailbreak to work by issuing iOS system updates. Hence a jailbreakable iPhone may be of larger value to some buyers and you may want to keep it that way. Instead of updating and restoring to the latest iOS, try "Cydia Impactor" from the Cydia store. This simple application will wipe your iPhone and return it to a fresh state without updating the version of iOS that is currently installed. If you want to erase Cydia completly you can run "Cydia Impactor" and afterwards update to a current iOS version and restore your iPhone using iTunes. This is also required, when yu want to send in your iPhone for warranty reasons.
Tip: If you want to know more about restoring your iPhone using iTunes, check out our guide to restoring your iPhone.