Forgot iPhone Passcode? How to Recover Disabled iPhone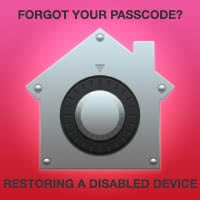 The passcode on your iPhone is there for a reason: To protect your data from strangers who might find the phone and try to access your private details, accounts and photos. You should also change it from time to time, just to gain that extra edge of security that comes from rotating passwords. But what if you forgot your iPhone passcode?
Six wrong entries and your iPhone disables itself for security reasons. Here's a tutorial on how to recover your disabled iPhone's functionality after entering the wrong passcode repeatedly (and having forgotten the passcode).
By the way, if you haven't configured a passcode yet, see our handy guide on how to set up a passcode on your iPhone.
Forgotten iPhone passcode: Your options
Don't worry, the situation is totally fixable and you will be able to use your iPhone again. A forgotten passcode is not a permanent problem, at least if you're the rightful owner of the device. After entering the wrong passcode for the sixth time, your iPhone will lock down and disable itself. We can now try three options to get back to a working phone.
Important note: Once your set passcode has been forgotten, there is no way to access the data on the device. We will have to wipe and restore it, effectively deleting all of the settings and personal stuff.
1. Restore via iTunes
The easiest method with the least pain involved: Connect your iPhone to your Mac or PC running the latest iTunes application. Now click "Restore iPhone" and restore it to the latest firmware. Then pick one of the backups you hopefully created beforehand to have the device reconfigure itself automatically. Here's a full guide on backing up and restoring your iPhone.


2. Restore via "Find my iPhone"
If "Find my iPhone" was active prior to entering the wrong code repeatedly, you can wipe your device from there and start anew, for example via your latest iCloud backup.
On a computer, go to icloud.com/#find, sign in with your Apple ID and pick your iPhone from the map or list. Then click "Erase iPhone" to delete all of the data on the iPhone. You will then be able to set up the device as if it was new and restore one of your backups to regain the files, documents and contacts.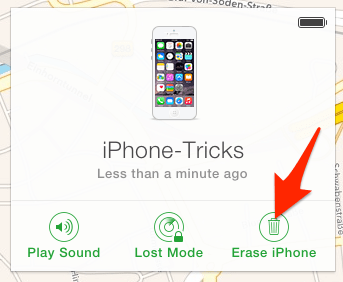 3. Restore via Recovery Mode
If iTunes won't accept the iPhone as synced and you are not using iCloud services, your best bet is to put the iPhone into recovery mode. From there, a restore process in iTunes should work. If not, try reconnecting the device to the computer. Here is a guide on how to access recovery mode from your iPhone. When done correctly, the screen on your iPhone should look like this: