Voicemail Greeting on iPhone: How to Record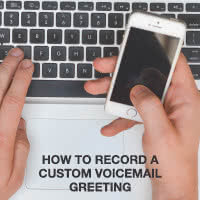 The default, generic voicemail greeting that comes with your iPhone is fine but also rather bland and boring. You can personalize the voicemail greeting on iPhone by recording your own custom version of it. This is a tutorial on how to create a custom iPhone Voicemail greeting.
Voicemail Carrier Settings
Whether you can record your own greeting (also known as "voicemail outgoing message") depends on your carrier and whether they have their own mechanism in place, or integrate neatly with the iPhone's native functionality.
If your carrier supports the iPhone voicemail feature, you can retrieve and listen to your voicemail right from within the "Phone" app and call your contacts back by simply tapping their messages. That type of functionality is pretty neat and useful, because it saves you actual time. If not supported by your carrier, you will not be able to see the visual overview of your voicemail inbox and use any of the related features. Tapping the "Voicemail" tab in your "Phone" app will simply call the number associated with your voicemail box. So let's get going with creating our custom voicemail greeting on iPhone!
How to record your own Voicemail on iPhone
Phone → Voicemail → Greeting → Custom → Record → Save

So far you probably had a generic voicemail greeting on your iPhone and want to change it to a personal voicemail greeting and with most carriers you don't even need an additional voicemail recording app and can record a custom voicemail greeting directly on iPhone.
Record iPhone Voicemail Greeting
Open up your "Phone" app on your iPhone.

Want to know if someone blocked your calls? Learn more about how to find out if someone blocked your number.
Then tap the "Voicemail" tab at the bottom right.

Now select "Greeting" in the upper left of the screen. Tap "Custom" and then "Record" to record your personalized voicemail greeting.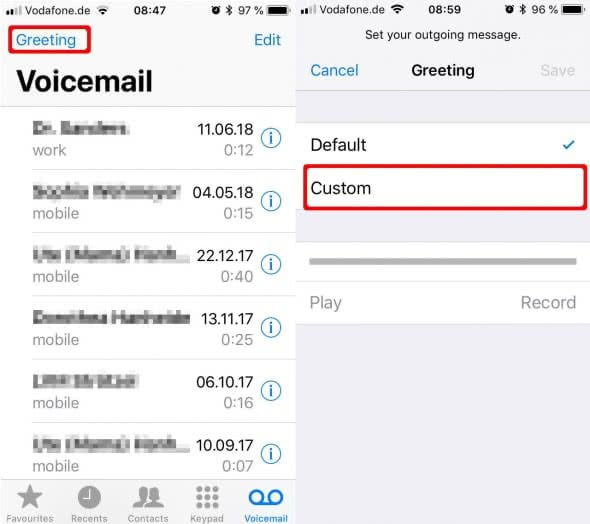 Did you know that you can turn off Voicemail? Follow this link to find out how to turn off voicemail on iPhone.
Make sure to keep the microphone in an appropriate angle and distance while recording. When finished, tap "Stop" and finally "Save".
Change your Voicemail greeting on iPhone
If you had a generic voicemail greeting and recorded a personalized voicemail greeting you can change to the custom voicemail greeting by saving your custom voicemail recording. You should first listen to your recording by playing it from the menu and can then choose to keep the custom greeting or revert to the default one. Don't forget to confirm your changes by tapping "Save" when done.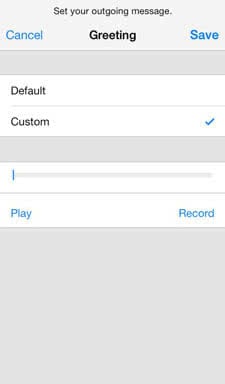 If you want to change back later, that is also possible.