How To Turn Off Voice Mail On iPhone

As you probably already know, a voice mail system stores audio messages left by your unanswered calls. It and may or may not cause additional costs when in use or when listening to the recordings. Retrieving a voice mail on iPhone can be a hassle, especially if you don't want to use the feature in the first place. Therefore, we show you how to turn off voicemail on iPhone.
How to disable voicemail on iPhone
In order to turn off voicemail (you may also know this feature by the name of mailbox or voice message) on your iPhone, proceed as follows:
1. First of all, you need to open up the "Phone" app on your iPhone's home screen. In order to find out your mailbox number you need to enter *#61# and tap the green trigger button. As soon as you receive the number write it down on a piece of paper or record it in some other way.
2. Now, open the "Settings" app on the home screen of your iPhone. Then select the "Phone" section, choose "Call Forwarding" and enable the option. Now enter the phone number you wrote down in the previous step. Leave the menu in order to save the settings.
3. Open up the "Phone" app and select the "Keypad" icon at the very bottom. Now enter the following sequence and start a call by tapping the green trigger button (don't worry, it won't actually call anyone but rather confirm the setting): #004#.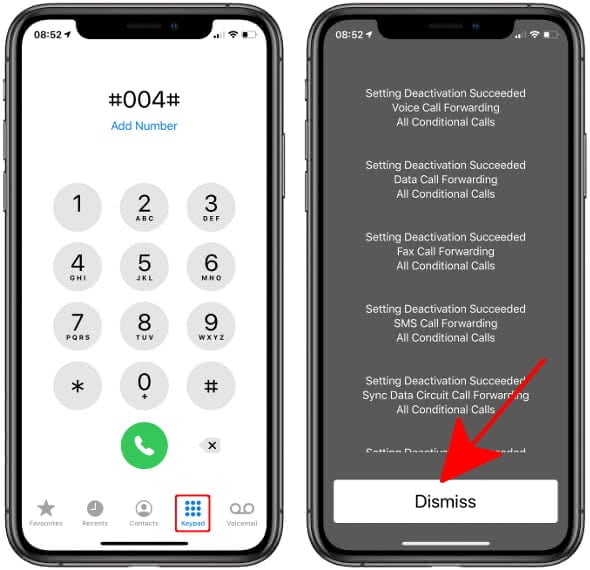 You should see a number of text messages on a dark gray background pop up, each concerning a part of the voicemail feature. For instance, there's "Voice Call Forwarding", "Data Call Forwarding" and "Fax Call Forwarding". Tap "Dismiss" when done.
Now you have deactivated voicemail on your iPhone. However, you can still customize a few settings. Just read on to find out more.
Customizing individual forwarding features
There is also the option to target individual voicemail settings with regards to call forwarding on your iPhone.
Typing in #61# will switch off delayed forwarding
Typing in #62# will disable forwarding in cases of no signal, or when you've shut down your iPhone entirely
Typing in #67# will disable forwarding on a busy line (when you're currently on the phone)
And finally, to disable forwarding globally, type in #21# and confirm with the green call button, as with any of the other options.
These special codes work in any region and should give you the power to fully customize your voicemail/mailbox on your iPhone. Unfortunately, there is no user-friendly alternative to this slightly awkward method, at least for the moment. But it works!
How to reactivate voicemail on iPhone
In order to re-enable voicemail, you can either consult your respective carrier's documentation or enter the specific code of your provider in the "phone" app and tap the call button:
AT&T: ##004#
T-Mobile: ##004#
Verizon: *73 (try *900 and then *920 if it doesn't work)
US Cellular: *920
Sprint: *730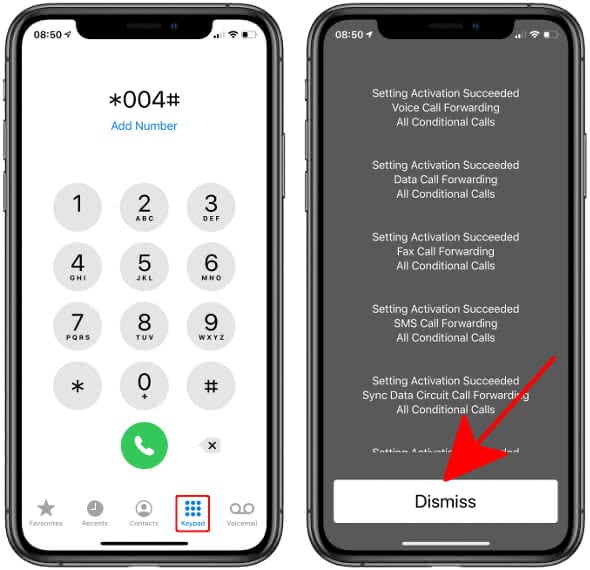 Alternatively you can also call your carrier's customer service by the following phone numbers:
T-Mobile: 1-877-453-1304
Verizon: 1-800-922-0204
AT&T: 1-800-331-0500
Sprint: 888-211-4727
You can dial *611 from your iPhone or any other device as well to get help concerning this matter.
Customized Voice Mail Greeting: You can record your own greeting for Voice Mail. Learn how to record personal voicemail greetings on iPhone!