How To Share Calendar Events On iPhone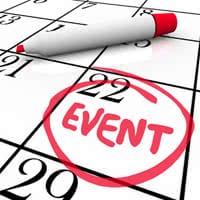 Welcome to the digital age! Are you still using a paper calendar or journal? Well, you may have noticed that it is quite a hassle to invite participants to an event when using a traditional calendar. Far easier for everyone involved: Just send them an iOS calendar invitation. Here's how to share iPhone calendar entries with other people and send iPhone calendar invitations to the participants, also known as 'invitees'.
Digital invitations are pretty awesome. Your contact will receive either an email or a notification to which he can respond by accepting, declining or tentatively accepting the invitation.
How to invite your friends or colleagues to an calendar event on iPhone
All your contacts need to join the digital revolution of calendar entries is a compatible and modern system, such as Google Calendar (comes with every Gmail account), iCloud or Microsoft Exchange. To share an iPhone calendar entry with your contacts by inviting them, you will require their email address(es), as you share an iPhone calender event via email.

Calendar → + sign → Invitees

Open up your "Calendar" app and tap the plus sign at the top right corner of the screen. You should now enter the appointment creation screen with a list of options, the timeframe and date of your event. If you scroll down a bit, you might spot a button labeled "Invitees". Tap it to configure the list of invitations. You may add invitees by typing their email addresses in here, or simply by tapping the plus sign to the top right and selecting them from your address book in the "Contacts" app.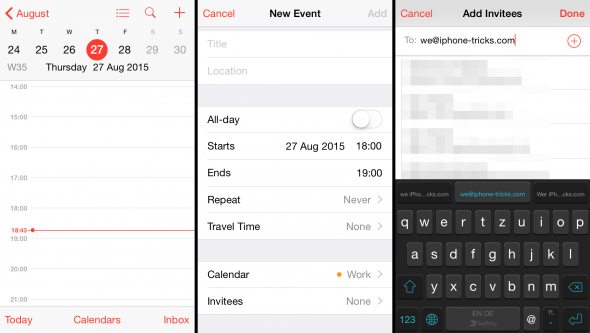 So far there is no option to share calendar events via text as well as no chance to share calendar events with WhatsApp.
Tipp: In another article we show you how to unsubscribe from a calendar on iPhone.
How to accept a calendar invitation on iPhone
Calendar → Inbox → Accept

What if your contacts want you to join in on a meeting? Open up your "Calendar" app and go to "Inbox", you can find the button at the bottom right of the screen. The iPhone calendar inbox displays a list of currently open invitations to deal with. Select the appropriate response from the listed options to automatically send a reply to your contact.