Personal Hotspot Not Working – Troubleshooting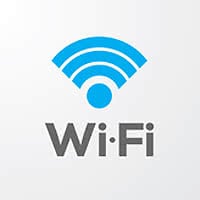 Using your iPhone as a Personal Hotspot allows you to pass on your mobile data connection (cellular data) to your laptop and other devices in the vicinity. Apple introduced this feature as a means to share your internet connection with others and to keep your MacBook connected on the road. If your Personal Hotspot is not working properly, some troubleshooting is in order. Here's how to fix your Personal Hotspot.
Typical issues with Personal iOS Hotspots
If your personal hotspot is not working there might be a few different reasons. Here are some typical issues you might have with your personal hotspot.
Cannot connect to Personal Hotspot from the other device
iPhone not staying in Personal Hotspot mode
iPhone Hotspot connected but no internet connection
Personal Hotspot connection dies after a few seconds of usage
First of all, make sure that your iPhone is updated to the latest version of iOS. Installing all of the current updates will make troubleshooting far easier, although this is clearly not something you can easily achieve while on the road.
Note: It might be necessary to restart your iPhone or the other device during the troubleshooting to make sure that all of the settings are actually carried over correctly. Please keep that in mind.
Personal Hotspot troubleshooting: Checking the settings

Settings → Mobile Data → Mobile Data Network

Open up your iPhone "Settings" . We need to make sure that everything is set up correctly in order for your Personal Hotspot to work correctly. Go to "Mobile Data" and tap "Mobile Data Network" to view your detailed network settings.

If those fields are all blank on your device, your network settings were either missing from the start or they have been corrupted for some reason. Either retrieve your details from the documentation your carrier gave you with the contract/phone, or better, hit the "Reset Settings" button at the bottom of the page. This will recreate the necessary details and allow you to reconnect to the cellular data network, be it 3G or 4G/LTE.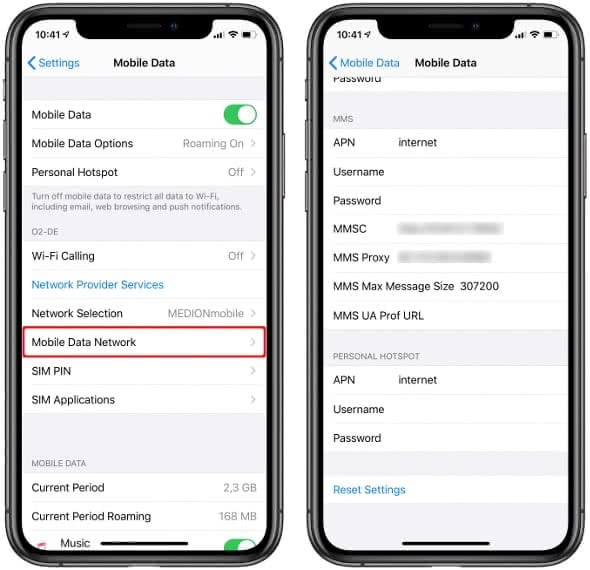 Reset your Mobile Data Network settings

Settings → General → Reset → Reset Network Settings

If you feel that something is off with your internet connection on the iPhone, you can also wipe and recreate the network settings by going to your "Settings" app, the "General" section and (after scrolling down all the way) tapping "Reset". Now select "Reset Network Settings" to restore the defaults.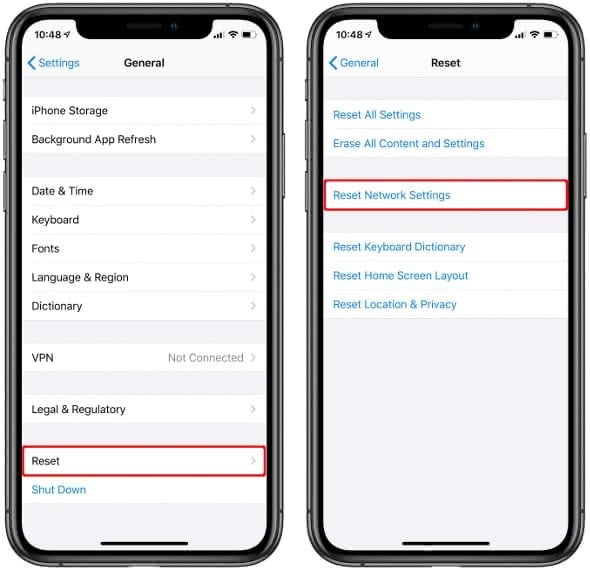 Note that you will have to re-enter all of your Wi-Fi network passwords when resetting the network settings. Unfortunately, there is no way to specifically target only the cellular network settings.
Personal Hotspot stops working after a few seconds
An easy way to get your data connection "flowing" after it stalled while using the Personal Hotspot, is to briefly disconnect from the Personal Hotspot with the other device. Enable Airplane mode (if available) or simply disconnect and reconnect to the Personal Hotspot on your iPhone. This fixes a lot of intermittent issues and can be repeated if needed. Stalling typically occurs when the data allowance on the iPhone is nearing its depletion.
Personal Hotspot connected but no internet connection
If your device is connected but there is no internet conncetion try to turn off Wi-Fi and turn it back on again first. Sometimes the personal hotspot connection only seems to be connected but isn't really.
If this fails and you want to use the personal hotspot on your computer or Mac check your iTunes version. If you have an older version it may not connect correctly. Now plug in your iPhone and trust your device. Check if you can locate your device in iTunes. If not check your cord and maybe try with another cord.
A last issue might be the System Settings. So go to "System Preferences" → "Netwok" and check if you selected iPhone USB.
Note: Also be sure to turn off the personal hotspot once it's no longer needed, otherwise your computer will use the personal hotspot every time you plug in your iPhone!
After using a personal hotspot you should always check your data usage. Here's how to find out your personal hotspot data usage.