Personal Hotspot – Find Out Your Data Usage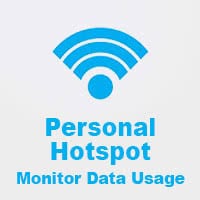 The personal hotspot enables you to share your mobile internet connection. This way other devices (e.g. iPhones, iPads, Mac, or smartphones) can benefit of your mobile data. The only problem is your data volume. So you should monitor on how many mega- or gigabytes the personal hotspot uses. Otherwise your data usage is too high and you may be without data volume 2 weeks after starting your phone plan.
Check the data usage of the personal hotspot
Open the Settings on your iPhone and tap Mobile Data (or Cellular).
Almost on top you will find the Personal Hotspot. You can click it to activate the hotspot and save a password for the connection.
Scroll down on the Mobile Data (Cellular) screen. You will find a list of apps under the section Use Mobile Data For. Below each name is shown the used data for the current period. This section helps you to monitor and check the data usage on your iPhone.
The personal hotspot is not in this list though. Scroll down to the end of the list and you will find System Services. There you can find out how much mobile data the personal hotspot has been used so far.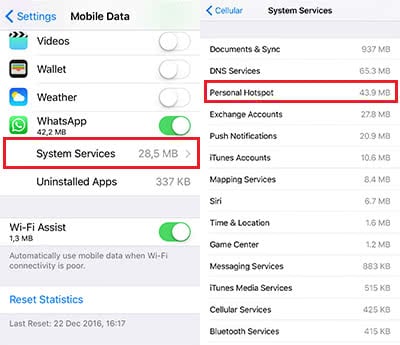 Reset statistics
It will be significantly informative once you monitor the data usage for a certain time period. So it is worthwhile to reset the statistics of the mobile data usage every now and then. You can do it on the screen of the Mobile Data (Cellular) settings. At the bottom you can click Reset Statistics to start a new time period.

If you have issues with your personal hotspot not connecting or connection but not internet connection check or guide on how to fix issues with your personal hotspot.