How To Request Desktop Site On iPhone


Did you know that you can display the full version of a website in Safari on your iPhone? As not all mobile versions offer the full range of functions this makes perfectly sense. We show you how to request the desktop site on your iPhone.
Why use desktop site on the iPhone?
Larger displays and higher resolution mean more content can be viewed in Safari. So in some cases it makes sense to turn your back on the mobile version and display the desktop version – the full version of a website – instead. In addition, mobile pages don't always offer the same functionality as desktop pages. For example, menu items are often omitted in the mobile view. Note, however, that not all websites support the display of the desktop version.
Enable desktop view on iPhone
First, open Safari on your iPhone and go to the website that you don't want to view in the mobile version on your iPhone, but as a full version. Enter the address in the address field or open the page from your favorites. In our example we use Google, which is displayed as mobile version on the iPhone by default.
Now press the "aA" symbol in the upper left corner of the address field and a small context menu will appear. Then tap on the option "Request Desktop Website" and your iPhone will let Google know that it is not a mobile device with a small display, but a full-fledged computer. The page will reload in the desktop version.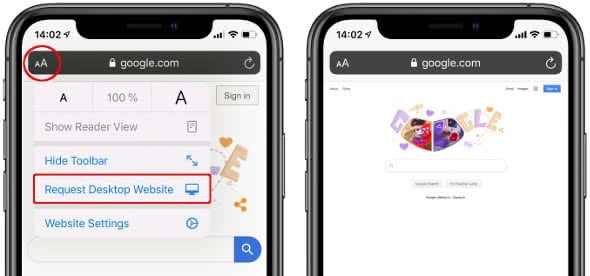 To return to the mobile version, simply tap the "aA" icon in the upper left corner of the address field again and select "Request Mobile Website".
In another article we show you 11 Safari features you should know!