How To Enable WhatsApp Dark Mode On iPhone

WhatsApp has been working on bringing dark mode to the iPhone for quite some time, but now the wait is finally over. We show you how to enable the WhatsApp dark mode to give WhatsApp on your iPhone a dark design!
Prerequisites
To use the WhatsApp dark mode on your iPhone, you must first download the latest WhatsApp update, version 2.20.30, to your iPhone. To do so, go to the App Store app on your iPhone, tap the profile icon in the upper right corner and scroll through the Available Updates list until you reach "WhatsApp Messenger". Then tap on the "Update" button and wait a moment until the latest WhatsApp version is installed on your iPhone.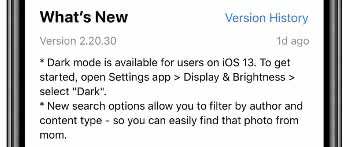 There is no separate setting option for dark mode in the WhatsApp app, as it simply adapts to the dark mode you can use on the iPhone since iOS 13. So the WhatsApp dark mode can be used on all iPhone models that support iOS 13 (iPhone 6s and newer). It is not available on iPhones that do not support iOS 13 (iPhone 6s and older).
Enable WhatsApp dark mode on iPhone
As soon as you activate the iPhone dark mode under Settings → Display & Brightness → Dark, the user interface in WhatsApp automatically changes to a dark design. In the same way, you can also undo the darkened look – that is, light text on a black background.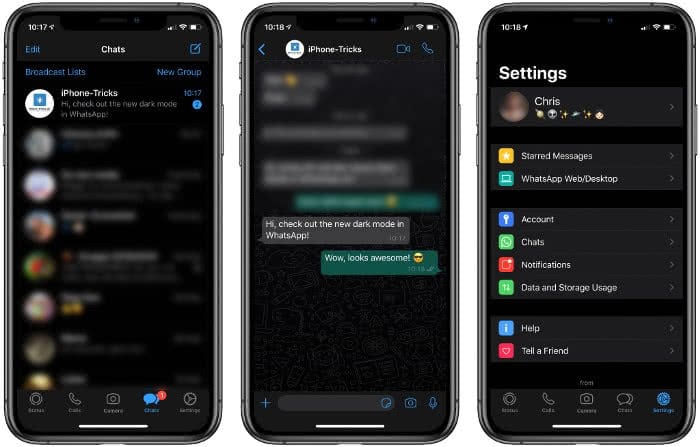 Advantages of dark mode in WhatsApp
Of course, dark mode is not an end in itself, but offers clear advantages when using the WhatsApp app. For example, dark mode is particularly easy on the battery of iPhones with OLED displays, as with this display technology – unlike LCD screens – dark image content does not need to be illuminated and therefore consumes less power. In addition, the dark appearance relieves the eyes when using the app at night or in dark environments. Bright writing on a dark background is therefore much more comfortable for the eyes than the other way around. Moreover, the dark appearance (similar to the blue light filter) makes it easier to fall asleep when using WhatsApp in bed in the evening.