How to find your iPhone's Serial Number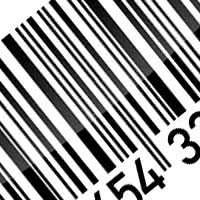 Apple Support is asking for your iPhone serial number, so you can receive services from them. But where can you find that number? Well, it's not on the back of your iPhone, that is for sure. In today's tutorial you will learn how to retrieve the iPhone serial number in three different ways. We will begin with the easiest and most reliable method and present two other options in case the first is not working out for you.
Depending upon how damaged an iPhone is, you might not be able to get into the "Settings" app and retrieve the serial number from there. In most cases however, it should still be possible as long as the iPhone is booting up and running well enough to open an app.
Checking your iPhone serial number via the "Settings" app
Settings > General > About

Open up your "Settings" app and tap "General", then select the topmost option "About" to get to a comprehensive list of facts and numbers regarding your iPhone. Look for the entry titled "Serial Number". You can also tap and hold the entry, then hit "Copy" to put it in your clipboard, in order to paste it into an email or chat conversation.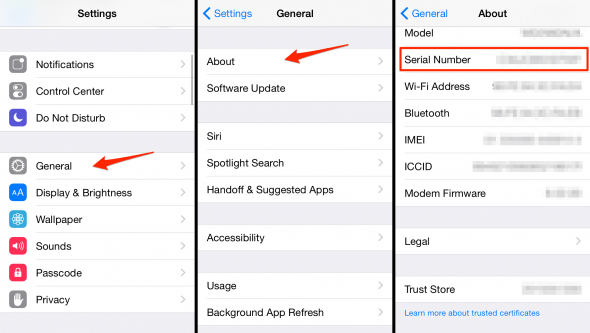 Retrieving the serial number of a severely damaged iPhone
If your iPhone is suffering the consequences of water damage or a hefty fall, you might not be able to open the "Settings" app. In this case, we advise looking for the original box packaging your iPhone came in. Right at the back of the box you should find the serial number, we took a picture to highlight the placement for you: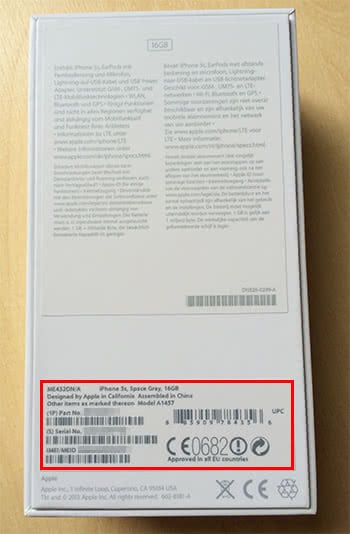 Older devices, such as the iPhone 3G, 3GS, 4 and 4S had their serial number etched into the SIM card tray. In case you own one of these older models and can't boot it up to retrieve the serial, take a look inside the SIM tray.
If all else fails, iTunes is your last resort
Perhaps your screen is severely damaged and you can't see anything on it, lost the packaging or threw it away and own one of the newer models. What now? Well, your best bet is iTunes.

Connect your iPhone to a PC or a Mac and fire up iTunes, in case it doesn't open up automatically. Right at the device overview you'll see a field that shows either the serial number or the UDID. Click it with the left mouse button to cycle through the types of information or right-click to copy the number for pasting in an email or on a support website.