Battery Widget For iPhone – Here's How To Add It

In the Settings app on your iPhone, you can see which Bluetooth devices your iPhone is currently connected to. However, the battery charge level is not displayed there. But there is a trick to show the charge status of all connected Bluetooth devices as well as the iPhone itself by adding the battery widget. Here's how it works!
Adding battery widget to iPhone
Pick up your iPhone and open the Today View by wiping all the way to the left on the Lock screen or Home screen. Then tap "Edit" at the bottom of the screen (you may need to scroll down a bit depending on the number of widgets you have enabled).
This opens a list of all active and inactive widgets. Now look for "Batteries" under More Widgets and enable the widget by clicking on the green plus button to the left of it. You can change the order of your widgets in the list by grabbing them on the right and dragging them up or down and releasing them where you want them in the Today View to appear. Exit the Add Widgets page by tapping "Done" in the top right corner.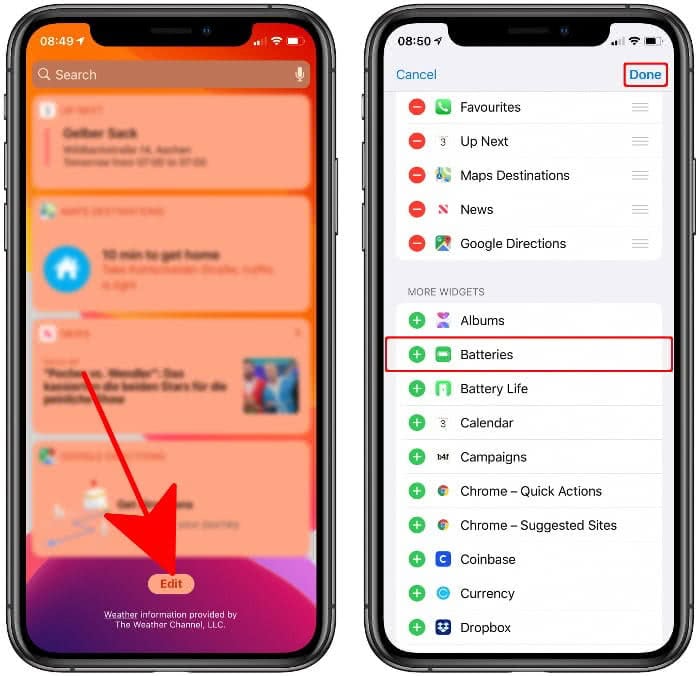 When you open the Today view, you will now see the battery status of your iPhone, as well as the battery status of connected Bluetooth devices, such as Bluetooth headphones and speakers or hands-free car kits.